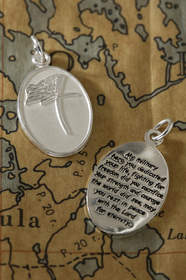 Susan Howard's Military Loss pendant for Veterans Day, from CelebrateYourFaith.com.
MINNEAPOLIS, MN--(Marketwire - November 3, 2009) - Celebrate Your Faith (CYF), a faith-based internet retailer, today announced it will feature a series of inspirational, military-themed gifts in honor of Veterans Day. These gifts show gratitude for those serving in the U.S. Armed Forces, and also touch the hearts of families and friends celebrating the return of loved ones. Memorial jewelry also serves to remember those who have given their lives in service to their country. This Veterans Day 2009, November 11, appreciation for veterans and their families can be shared with artisan collectibles from http://www.CelebrateYourFaith.com (CYF). A special collection of memorial artisan jewelry designed by Susan Howard is featured on www.CelebrateYourFaith.com. Ms. Howard has used her inspiration to create Comfort Wear Jewelry™, a collection of memorial jewelry designed to bring comfort to grieving loved ones. Adding a personal touch, Susan has etched a beautiful prayer on the back of her pendants that are specific to each piece. Her passion behind creating and designing Comfort Wear Jewelry™ is to create fashionable jewelry that truly expresses God's grace and unconditional love for all mankind. CYF is featuring Susan Howard's pendant, Military Loss, for Veterans Day 2009. This stunning sterling silver necklace, accompanied by a lovely gift box, includes an American flag with cross on the front and a poem on the back that reads:

My military hero you dedicated your life,
Fighting for freedom did you sacrifice.
Your strength and courage the world did see,
May you rest in peace with the Lord for eternity.

"I created my memorial pieces for clients seeking to have a special piece that reminds them of their loved one," says jeweler Susan Howard. "The joy and reward of creating jewelry that helps bring comfort to the person wearing it are priceless." "Veterans Day is a chance for all of us to salute and show our appreciation for those serving in the U.S. military," says Joanne Brunskill of CYF. "Celebrate Your Faith features gifts that are perfect for the soldier stationed far from home, assuring them that you are praying for them and that their protection is found in God. They are also heartfelt tokens of love that memorialize a lost loved one." In addition to memorial jewelry, CYF also offers an array of military-themed gifts perfect for the returning soldier or the veteran in the family. For more gift ideas for Veterans Day 2009, visit www.CelebrateYourFaith.com. About CelebrateYourFaith.com www.CelebrateYourFaith.com (CYF) is a faith-based retailer specializing in unique, inspirational gifts that connect people to God. Since 2007, CYF has successfully leveraged over 25 years of Fortune 100 retail experience into the faith-based retail industry by identifying new trends and carefully selecting an extraordinary collection of handcrafted artisan gifts, jewelry, Bibles and home decor from around the world. CYF is dedicated to promoting the preaching of the Gospel. Twenty-five percent of all profits are given to support active missionaries and mission objectives across the globe.

Contact Information: Contact: Angela Singletary Gio PR 612-309-2811