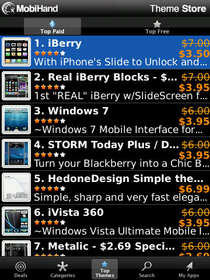 MobiHand On-Device BlackBerry Theme Store
SAN MATEO, CA--(Marketwire - November 4, 2009) - MobiHand, Inc., a leading provider of mobile content and application stores, has unveiled the MobiHand On-Device BlackBerry Theme Store, which provides immediate access to thousands of themes and exclusive deals for personalizing the BlackBerry device's look and feel. The themes enhance the functionality of the home screen while showcasing the graphical user interface design expertise of the hundreds of developers selling through the MobiHand catalog. "Themes have always been one of the most popular categories in our catalog because they provide an affordable way to add personality, individuality and fun to BlackBerry devices," said Steve Howard, president and CEO of MobiHand, Inc. "With dozens being added to our catalog every week, it is clear that the only limit is the imagination of the theme developers working with us. For customers, that's a great thing because they now will have instant access to creative new looks along with lots of specials, like our Deal-of-the-Day, anytime and anywhere." A key feature of the On-Device BlackBerry Theme Store is automatic device detection that ensures that all the themes presented to a user will work properly on their particular BlackBerry. Some popular themes included at the launch include: iBerry by Lunars Edge Design, Real iBerry Blocks by JC Designs - Gadgetbean, AppleBerry Theme Suite by BlingBerry Themes, STORM Today Plus / Dual SLIDING DOCK -- by JC Designs - Gadgetbean, Windows 7 v2.0 by Lunars Edge Design, Metalic by JC Designs - Gadgetbean, Transitions v1.0 by Z Man Designs, In The Know -- Today + w/ SLIDING Bottom Dock Icons 0 by Magnum | Zimplifier, m[i]Berry v1.0 to 1.1 by Cocky Culture, HedoneDesign Simple theme by Hedone Design, and Sticky Notes Theme by Gemblock. MobiHand On-Device BlackBerry Theme Store Highlights: The new theme store shares many of the features of the On-Device BlackBerry App Store that was launched over the summer as an alternative to Research in Motion's BlackBerry App World.

--  Automatic Device Detection -- to ensure compatibility
--  Deal of the Day -- where a new best-selling theme is offered at deep
    discount every 24 hours.
--  Browse by Category -- Animals, Automotive, Comics/Cartoons, Holidays,
    Icon Style, Just for Girls, Sports, Today Plus, Today Style, Zen Style etc.
--  Browse by List -- to view Top Themes, "What's New," "What's Hot" and
    Specials
--  Detailed Theme Descriptions -- include product details, ratings,
    reviews and screenshots carousel
--  Optimized checkout using a credit card with one-click convenience
--  Easy download and installation -- with OTA delivery directly to the
    BlackBerry device
--  Customer service -- provided by a dedicated team to ensure complete
    customer satisfaction.
    
"Due to the overwhelming response to our On-Device BlackBerry App Store, especially in the category of themes, it made sense for us to offer customers an even more streamlined way to obtain themes," said Howard. Examples of Theme Developers in the MobiHand Network:

--  Michelle Foster, of BlackBerry Boutique ~ Skigoddess has been selling
    themes through the MobiHand network for nearly a year, with her most
    popular being 4 Seasons, HeeLs In The CiTy, The WiLd and Rose StiLetto.
    
"MobiHand's team has been a pleasure to work with. They are responsive to their customers as well as their developers. I especially like how they are always seeking ways to improve the customer shopping experience."

--  Tony Dimovski, of Cocky Culture, has been developing themes for just
    over 7 months. Rocker Chic, his first Rock-inspired theme, Robotika and da
    Vinci are some of his most popular themes.  His themes are designed to run
    quickly, efficiently, and still look good.
    
"The ease of use and distribution channels that MobiHand brings to the table have literally taken me from someone who, 7 months ago, was collecting unemployment and worrying about how I was going to pay the bills to currently bringing in a larger income than I could have ever imagined from a 'hobby' while allowing me to enjoy the other aspects of my life. I really owe a lot to MobiHand."

--  Hedone Hawker of Hedone Design has been selling themes on the MobiHand
    network for a year.  His OSXLike and Windows Se7en themes place an emphasis
    on functionality (i.e. battery and signal meters are used as buttons) as
    well as graphic design.
    
"In a short period of time, Hedone Design was able to become one of the most popular theme designers. Being able to get our themes distributed quickly and efficiently through the MobiHand network has made a huge difference for us."

--  John Choong of JC Designs - Gadgetbean started developing themes over
    5 years ago, with the Real iBerry Blocks series of themes being his
    flagship.
    
"What I really like about working with MobiHand is the personal approach. I also like how MobiHand is always coming up with promotional ideas and new ways to help extend our reach into the BlackBerry community." Availability and Grand Opening Special Deals: The MobiHand On-Device BlackBerry Theme Store can be downloaded over the air (OTA) by going to www.mobihand.com/ThemeStore from the BlackBerry Web browser. To celebrate the app store's grand opening, from now until November 15, all themes are 20% off. Just enter coupon code, "ThemeStore" during checkout. In addition, the Theme Store's Deal-of-the-Day will offer discounts of up to 50% off best-selling BlackBerry themes. To learn more about the MobiHand Theme Store for BlackBerry go to www.mobihand.com/themestore.asp on your desktop browser. About MobiHand: MobiHand, Inc. is a leading distributor of software and content for a wide range of mobile devices, including BlackBerry, Windows Mobile, Palm, Symbian and Android. With a catalog of over 20,000 mobile applications, media products, and subscription services from over 1000 content providers, MobiHand powers hundreds of co-branded app stores worldwide. The company delivers end-to-end services for the aggregation, marketing, purchasing, and provisioning of mobile content. MobiHand's best-in-class management platform, MobiReach, provides comprehensive tools for catalog management, localization, store design and administration, marketing and ad campaigns, and reporting. The company is headquartered in the San Francisco Bay Area. For more information about MobiHand, please visit http://corporate.mobihand.com. Copyright 2009 MobiHand, Inc. All other product names, servicemarks, and trademarks mentioned herein are trademarks of their respective owners.

Contact Information: For more information or to obtain a reviewer's copy, contact: Annie Gladue MobiHand, Inc. 415-302-8990