Sarah Hoit, CEO and co-founder of MyWay Village, talks about how social isolation is a huge issue with the elderly population, particularly during the holidays.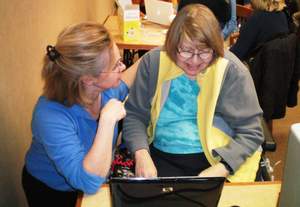 MyWay Village's Connected Living program helps seniors feel less depressed and isolated during the holiday season by getting them online to connect with friends and family.
BOSTON, MA--(Marketwire - December 17, 2009) - MyWay Village, the first senior-focused technology company to help seniors get online in an easy and social way by combining access to simplified technology with personal training and support, today announced that their Connected Living program is reducing depression and feelings of isolation especially during the holiday season within senior communities where the company's programs are being offered. "Social isolation is a huge issue with the elderly population, particularly during the holidays, as they are often experiencing loss at many levels; of a spouse, friend or home," offered Sarah Hoit, CEO and co-founder of MyWay Village. "Our Connected Living program directly addresses the challenges of social isolation and the lack of a venue to cultivate a sense of purpose which is a basic human emotional need." "As a caregiver who has seen the impact of social isolation and sadness experienced by our residents in the past, we can validate that the Connected Living Program is improving our residents' quality of life," said Sharon E. Ricardi, VP Operations & Advisory Services, The Northbridge Companies. "We've provided holiday specific classes and have seen tremendous participation that we have not had previously." Internet and Depression in Seniors As part of the American Recovery and Reinvestment Act of 2009 which is directing more than $7 billion to expand Internet availability and adoption in the United States, The Phoenix Center for Advanced Legal and Economic Public Policy Studies completed a study in October 2009 titled, "Internet use and Depression Among the Elderly." The study suggests that Internet use among the elderly reduces depression. The elderly population is one target of the funding and The Act funded research on over 7,000 elderly retired people to evaluate the role of Internet use on mental well-being. Also, research being conducted by The Behavioral and Social Research Program at The National Institute on Aging has been exploring the relationships between physical and mental health and social connections among the elderly. The group is especially interested in ways social networks affect health and happiness and influence longevity. On average, for those seniors aged 65 and older, an increase in years of happy life accompanied the increase in life expectancy. Additionally, loneliness is related to negative physical health outcomes in older adults. Helpguide.org, a recognized non-profit group that provides information and support to various groups including elderly care providers and seniors, identified the following causes and risk factors that contribute to depression in the elderly:

--  Loneliness and isolation -- living alone, a dwindling social circle
    due to deaths or relocation.
--  Reduced sense of purpose -- feelings of purposelessness or loss of
    identity due to retirement or physical limitation on activities.
--  Health problems -- illness and disability; chronic or severe pain;
    cognitive decline; damage to body image due to surgery or disease.
--  Medications -- many prescription medications can trigger or exacerbate
    depression.
--  Fears -- fear of death or dying; anxiety over financial problems or
    health issues.
--  Recent bereavement -- the death of friends, family members, and pets;
    the loss of a spouse or partner.
    
The same organization's recommendations for seniors to prevent depression are addressed by MyWay Village's Connected Living program including:

--  Get out in to the world -- try not to stay cooped up at home all day.
--  Connect to others -- limit the time you are alone and if you can't get
    out to socialize, invite loved ones to visit or keep in touch over the
    phone and online.
--  Participate in activities you enjoy -- pursue whatever hobbies or
    pastimes bring or used to bring you joy.
--  Learn a new skill -- pick something that you have always wanted to
    learn or that sparks imagination and creativity.
--  Enjoy sharing jokes and stories -- laughter provides a mood boost so
    swap humorous stories and jokes.
    
About MyWay Village Founded in 2007, MyWay Village is transforming the experience of aging and connecting families across generations by combining simplified technology with high-touch personal support. The company is based in Quincy, Massachusetts. http://www.connectedliving.com/

Contact Information: Contact: Sarah Hoit MyWay Village 617-328-1600 ext. 323 shoit@connectedliving.com Or Mara Stefan Emerge PR 617-729-3171 mstefan@emergepr.com