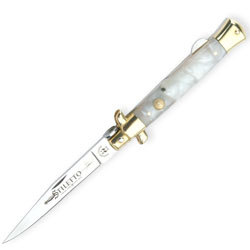 Kissing Crane Mother of Pearl Stiletto Folding Knife (Item #KC5055.
ATLANTA, GA--(Marketwire - January 4, 2010) - BUDK®, industry leader in top quality edged collectibles, today announced its "Best Sellers of 2009 - Year in Review." To commemorate the event, the company also announced a store-wide clearance blowout, with savings on merchandise from best-selling knives, fantasy swords and movie collectibles to apparel and accessories. Fans can shop the sale online, through the BUDK Catalog, or by calling 1 (800) 543-5061. 2009 was a year marked with a surge of popularity in speed assisted-opening pocket knives, traditional bowie knives, folding knives and self-defense items. BUDK's vast and exciting selection of products from well-known designers and manufacturers helped attract new customers as well as encourage existing customers to add to their collection. BUDK Top 5 Best Sellers of 2009 - Year in Review

1.  Smith & Wesson Out-The-Front Tanto Knife (Item #19 SWOTFT). Lightening
    fast ejection, this exciting knife from BUDK offers an exciting new
    out-the-front mechanism.
2.  Zap Light Stun Gun Flash Light (Item #23 PS8). A powerful and practical
    self-defense item that is an actual flashlight with 6 ultra-bright LED
    bulbs.
3.  Cold Steel Irish Blackthorn Walking Stick (Item #35 CS91PBS). A superb
    recreation of an authentic Blackthorn from Cold Steel's Presidents
    private collection.
4.  Timber Rattler Outlaw Bowie (Item # 17 TR65). This custom full-tang
    bowie knife stretches16 1/2" overall, with an 11 3/8" blade made of
    solid stainless steel construction accented with brass plated guard.
5.  Kissing Crane Mother of Pearl Stiletto Folding Knife (Item #KC5055).
    A gorgeous Mother of Pearl Stiletto with brass-plated pins, bolsters
    and a brass Kissing Crane cast shield on the handle.

The BUDK clearance event features over 300 items, with savings up to 70% off retail. Quantities are limited, and the sale ends February 25, 2010. BUDK Top 3 Featured Specials

1.  Ridge Runner Firefighter Tactical Folding Knife (item # RR490). Buy One
    Get One Free! ($14 Retail Value.) This speed-assisted rescue knife from
    BUDK features a 3 1/2" black coated stainless steel blade.
2.  Heavy Metal F.A.K.K. Sword with display and color poster (Item
    #UC1193). Regularly $79.99, Now $49.98! This officially licensed
    reproduction sword appears throughout the movie Heavy Metal F.A.K.K.
    This item also includes a hardwood plaque, certificate of authenticity,
    and a full color 18" x 24" poster from fantasy artist Luis Royo.
3.  Meyerco® Machete (Item #17 MY36016). BUDK Special $17.98 includes a
    FREE Assisted Opening Folder. This stainless steel blade provides
    greater edge holding ability and maximum resistance to rust.

"2009 was a year of continued product innovation," says Clint Kadel, CEO and owner of BUDK. "From bowie knives and stilettos to self defense products, customers responded strongly to our merchandising initiatives. As we look forward to 2010, we wanted to show our appreciation for our customers by holding an unbelievable clearance event that promises to offer something for everyone." For more information and a complete listing of clearance items, visit www.budk.com About BUDK® BUDK® offers high-quality, direct-to-consumer swords, knives, medieval and fantasy weaponry, air guns, and other collectible weapons. BUDK® was founded by Clint Kadel over 20 years ago and has been a thriving success since. BUDK® distributes The BUDK Catalog and operates the www.budk.com website. For a free catalog or to view the entire BUDK® product selection, visit their website. BUDK is also on Facebook at Facebook.com/Budk and Twitter at Twitter.com/Budk.

Contact Information: Contact: Angela Singletary Gio Public Relations 612-309-2811