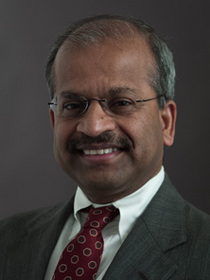 Mr. Uday Bellary, CFO GreenVolts
FREMONT, CA--(Marketwire - February 8, 2010) - GreenVolts, a leader in the development and commercialization of concentrating photovoltaic (CPV) technology, today announced that Uday Bellary has joined the company as its Chief Financial Officer.
Mr. Bellary is a seasoned global executive who brings more than 30 years of finance, accounting, investor relations, legal, human resources, and operations experience to his role at GreenVolts. His long list of accomplishments include two successful Initial Public Offerings, negotiations for a number of domestic and international acquisitions and divestitures, as well as the execution of significant debt and equity financing. At GreenVolts, Mr. Bellary will be responsible for finance and administration and will report to CEO David Gudmundson.
"Uday's leadership along with his lengthy and successful track record on the global stage will be invaluable as we continue to grow from a cutting-edge CPV startup to a major force in the solar industry," said David Gudmundson, president and CEO of GreenVolts. "His experience will be critical to our growth as we scale to meet the demands of the renewable energy sector for reliable, high performance solar equipment."
Most recently, Mr. Bellary served as Chief Financial Officer of telecommunications company Atrica, Inc., where he completed a $34 million equity and debt financing and helped manage its acquisition by Nokia Siemens Network. Previously, as Senior VP of Finance & Administration and Chief Financial Officer of Metro OptiX, he managed the company's spin-off from LM Ericsson of Sweden and raised in excess of $100 million from major venture capital companies. Additionally, Mr. Bellary took MMC Networks through its IPO as the company's Chief Financial Officer. The company was eventually acquired by AMCC for $4 billion. While with Cirrus Logic, he helped grow the company from less than $60 million in revenue to more than $1.2 billion. Mr. Bellary has also held key accounting and finance roles with a number of other companies, including Intel Corporation and PricewaterhouseCoopers.
"I look forward to putting my experience to work with the energized and focused team at GreenVolts," said Mr. Bellary. "My immediate task will be to identify the partners and the resources necessary for us to scale to meet our goal of powering a global CPV industry."
GreenVolts' innovative approach to concentrating photovoltaics has led to a power purchase agreement with Pacific Gas & Electric for a two-megawatt pilot facility in Northern California. GreenVolts has raised nearly $45 Million in venture capital, including $34 Million as part of a Series B round. The company's technology and business model recently earned it a spot on the 2009 Global Cleantech 100 list of the leading cleantech companies.
About GreenVolts
GreenVolts, headquartered in Fremont, CA, has taken an integrated systems approach to the development of complete Concentrating Photovoltaic (CPV) solutions that combines:
State-of-the-art proprietary highly concentrating optics
High precision, low profile, two-axis solar tracking
Intelligent power and control systems
On-board, real time, high resolution performance monitoring
This unique integrated systems approach will achieve industry leading energy productivity and low overall Levelized Cost of Energy (LCOE). In addition, the high energy density of GreenVolts' CPV system enables low cost power production that can be deployed close to load, further increasing the real value of the energy generated.
To learn more about the company, please visit www.greenvolts.com.
Contact Information:
Press Contact:
Michael Azzano
Cosmo PR
415.596.1978