For more than 100 years, American Greetings Corporation (NYSE: AM) has been a manufacturer and retailer of innovative social expression products that help consumers enhance their relationships.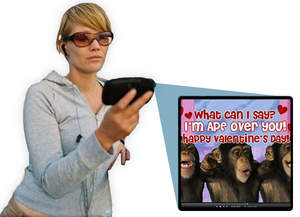 Mogreet and American Greetings Announce Partnership to Offer Mobile Sending of e-cards. Consumers can now send e-cards to nearly any cell phone in the US via Mogreet's MMS platform.
LOS ANGELES, CA and CLEVELAND, OH--(Marketwire - February 11, 2010) - Mogreet and AG Interactive, the online division of American Greetings Corporation, announced today the launch of a groundbreaking new mobile greetings service. For the first time, sending mobile greetings from the web will be as easy as sending traditional e-cards. Using Mogreet's cross-carrier, MMS mobile video marketing platform, AmericanGreetings.com users can send MMS greeting cards to over 2,500 different handset models across virtually every major mobile carrier in the United States including Verizon, AT&T, Sprint, T-Mobile, Cricket Wireless, and others.
The greetings will feature premium American Greetings content rendered in full-motion video, with synchronized sound and music, and a personalized message from the sender. At launch, AmericanGreetings.com will offer over 500 different e-cards from its catalogue specially formatted for mobile delivery, with over 50 Valentine's Day e-cards alone. In the coming months, thousands of e-cards on the site will be mobile-enabled. The cards are available exclusively through the AmericanGreetings.com service, where premium subscribers can send them free of charge.
"We are thrilled to be able to offer this innovative new product," said Michael Waxman-Lenz, senior vice president and general manager of AmericanGreetings.com. "For years, the industry has tried to bring to market a mobile e-card solution that was easy-to-use, reliable, and offered a genuinely compelling entertainment experience. With the help of Mogreet, we've finally done it."
"We are very excited to partner with American Greetings and bring the unique benefits of our services to a new audience," commented James Citron, CEO of Mogreet. "This new innovation in the multi-billion dollar greeting card industry will enable the millions of consumers who love to send e-cards the flexibility and convenience to send and receive them anytime, anywhere."
Consumers can utilize the mobile sending feature now to commemorate Valentine's Day, a birthday or any occasion. To see the latest greetings available, visit www.AmericanGreetings.com.
About American Greetings Corporation
For more than 100 years, American Greetings Corporation (NYSE: AM) has been a manufacturer and retailer of innovative social expression products that help consumers enhance their relationships. With brands such as American Greetings, Carlton Cards, Gibson, Recycled Paper Greetings and Papyrus, American Greetings is a leader in the social expressions industry worldwide. American Greetings also offers a variety of paper products to help people celebrate life's important occasions, including DesignWare party goods, as well as American Greetings and Plus Mark gift-wrap and boxed cards. American Greetings' new media subsidiary AG Interactive, Inc. is world's largest provider of premium electronic greetings. Through its brands AmericanGreetings.com, BlueMountain.com, Egreetings.com, and others, the AG Interactive network serves over 4 million paying subscribers. AG Interactive also offers digital photo sharing and personal publishing through PhotoWorks.com and Webshots.com. In addition to its greetings products, American Greetings also creates and licenses popular character brands including Strawberry Shortcake and Care Bears through the American Greetings Properties group. Headquartered in Cleveland, Ohio, American Greetings generates annual revenue of approximately $1.7 billion. Its products can be found in retail outlets domestically and worldwide. For more information on the Company, visit http://corporate.americangreetings.com.
About Mogreet
Founded in 2006, Mogreet enables marketers to combine the expressiveness of video with the ubiquity of text messaging to create the most effective way to communicate in mobile: mobile video messaging. The company has raised $7 million in venture capital from Ascend Venture Group, Black Diamond Ventures, DFJ Frontier and Spyglass Ventures. Mogreet is headquartered in Venice, California. http://www.mogreet.com
Contact Information:
Media Contact Information:
Jessica Hasson
Director, Social Radius
323-710-3556