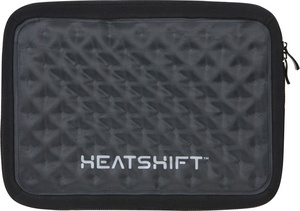 ThermaPAK Heatshift Laptop Sleeve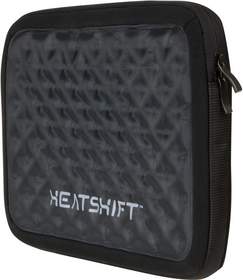 ThermaPAK HeatShift Laptop Sleeve
SAN FRANCISCO, CA--(Marketwire - February 12, 2010) - MACWORLD, # 906 - ThermaPAK (http://www.thermapak.com) today unveiled its latest solution to laptop cooling for anywhere on the road, with a size just right for the new iPad tablet computer. The new HeatShift Laptop Sleeve infuses ThermaPAK's renowned non-powered cooling technology into a convenient, protective carrying case and lap station combo for the iPad and 15 inch and 17 inch MacBooks.
The HeatShift Laptop Sleeve dissipates heat away from your computer, cooling both the machine and the user, with a special HeatShift material that shifts from solid to gel as it absorbs heat. When done with work, simply store away the laptop as the HeatShift solidifies for another use. Without power, batteries or moving parts, the HeatShift pad offers a permanent, reusable cooling mechanism with durable protection for iPad, netbook or laptop.
The HeatShift Laptop Sleeve makes longer work sessions more comfortable on the road, and high quality neoprene shields the surface of its contents from dings and scratches. For corporate road warriors and students alike, it offers the most versatile cooling and protective solution available for a true value.
"We are excited to bring Macworld a new cooling solution for laptops, netbooks and iPads," said Wayne Wang, President Sales & Marketing for ThermaPAK. "The new HeatShift Laptop Sleeves offer a versatile workstation with cooling technology built right in."
The HeatShift Laptop Sleeves collection will be available in the following colors and sizes:
Black HeatShift Netbook / iPad Sleeve -- $37.99
Pink HeatShift Netbook / iPad Sleeve -- $37.99
Black 15" HeatShift Laptop Sleeve -- $44.99
Pink 15" HeatShift Laptop Sleeve -- $44.99
Black 17" HeatShift Laptop Sleeve -- $49.99
Pink 17" HeatShift Laptop Sleeve -- $49.99
Please visit ThermaPAK at booth # 906 (Dr Bott Booth) this week at Macworld 2010. For more information, please visit the ThermaPAK website at www.thermapak.com.
About ThermaPAK
ThermaPAK, founded in 2004, has been a pioneering developer in laptop cooling solutions. Through comprehensive research and development, relentless attention to details, and continual evolution on design, ThermaPAK Group created a new series of cooling products. The new HeatShift line of laptop sleeves are part of a new product branch for ThermaPAK cooling technology.
Contact Information:
Media Contact:
Jessica Hasson
Social Radius
(323) 710-3556