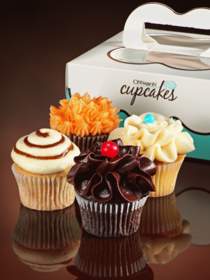 In a move that is sure to turn the cupcake world upside down, Cinnabon is celebrating its 25th anniversary with the addition of cupcakes to its bakeries' lineup!
ATLANTA, GA--(Marketwire - February 18, 2010) - After 25 years of making the world's best cinnamon rolls, Cinnabon is kicking off the next 25 years and beyond by introducing the world's best cupcakes.
"Cupcakes are well-known and well-loved, you can enjoy them sitting down or on-the-go, and they fit perfectly with our current baked goods and specialty beverages," said Cinnabon president Gary Bales. "We went back to our roots and worked with the creator of our famous Classic Roll to bring our new product line to life. We spent a full year testing 556 different recipes and a secret ingredient to get our cupcakes just right -- meaning they're moist, irresistible, high quality and worthy of the Cinnabon name."
The new line currently includes four delicious flavors:
- Cinnacake Classic: A tribute to Cinnabon's world-famous Classic Roll -- moist, vanilla cake infused with Cinnabon's® Makara® Cinnamon, topped with our signature cream cheese frosting and garnished with a caramel, Makara Cinnamon swirl
- Chocolate Passion: Moist, decadent chocolate cake topped with rich, chocolate buttercream frosting
- Vanilla Bliss: Moist, divinely vanilla cake topped with luscious, vanilla buttercream frosting
- 24-Carrot Cake: Moist, perfectly-spiced carrot cake with a hint of pineapple and coconut, topped with Cinnabon's signature cream cheese frosting and orange sugar sprinkles
Special flavors and designs will also be featured throughout the year. Cinnabon cupcakes come as individual servings and in four-count, half-dozen, and dozen packs, making them perfect for parties or gifts (prices vary by location). Many domestic mall-based Cinnabon bakeries already have cupcakes, with the rest scheduled to begin serving them between now and mid-March.
"We're the first national mall-based brand to make freshly-baked cupcakes in our bakeries on a daily basis," added Bales. "Our motto is that Life Needs Frosting®, so Cinnabon cupcakes are the perfect way to put a little frosting on your day. Even if you don't want to eat them fresh out of the oven, they're still moist for days after you leave the bakery. There might be similar products out there, but compared to Cinnabon cupcakes, 'Anything else is just a CupFake! ™'"
In addition to celebrating its 25th anniversary with new cupcakes, Cinnabon has also marked this milestone by updating its color palette and showcasing the magic of the baking process to convey a sleek, modern, boutique image.
"We want Cinnabon to be the place where Guests want to take a moment for themselves," continued Bales. "Cinnabon has been serving delicious products and extraordinary experiences resulting in total 'WoW!' reactions for the past 25 years. The overall look of our bakeries should elicit the same response, so it all starts with presenting ourselves in a way that is welcoming and appealing to our Guests."
About Cinnabon, Inc.
Founded in Seattle in 1985 and now based in Atlanta, Cinnabon, Inc. is the market leader among cinnamon roll bakeries. The company serves fresh, aromatic, oven-hot cinnamon rolls and cupcakes, as well as a variety of other baked goods and specialty beverages. Cinnabon currently operates more than 770 franchised locations worldwide, primarily in high traffic venues such as shopping malls, airports, train stations, travel plazas, entertainment centers, academic institutions and military establishments.
Visit www.cinnabon.com for more information, follow us on Twitter @CinnabonInc or become a fan at www.facebook.com/Cinnabon.