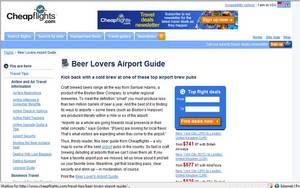 The Cheapflights Beer Lover's Airport Guide helps travels find the best spots for kicking back with a beer at airports across the U.S.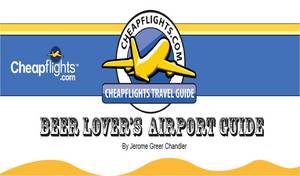 Visit www.cheapflights.com to download our Beer Lover's Airport Guide, your map to the best places to while away airport time with quality, fresh-brewed beer.
BOSTON, MA--(Marketwire - February 24, 2010) - As part of its quest to be a resource on all things flights, Cheapflights.com has released the new and improved Beer Lover's Airport Guide. Just in time for St. Patrick's Day, Cheapflights is serving up the latest information on where to kick back with a local beer and forget about the stresses of traveling for a short while.
Oonagh Shiel, Cheapflights editor said, "Flying these days means more time than ever in the airport. With early arrivals and long layovers, travelers find themselves with extra time on their hands. So, to help make sure those who want to quench their thirst while waiting, we revisited the brew pubs at airports across the country. Now, we are serving up the freshest information about where to find the freshest beer."
The Beer Lover's Airport Guide highlights beers from local breweries available at airport pubs across the U.S. from Seattle to Miami and points in between. Here is a taste of some of the airports and beers featured in the guide:
Detroit Metropolitan Wayne County Airport in Detroit, Mich.: In the McNamara terminal, the Online Cafe (Gate A36) and Diego's Mexican Cantina (Gate A12) keep it local. The Online Cafe sells Two Hearted Ale from Bell's Brewing Co. in Kalamazoo. Diego's offers an expansive line-up, starting with The India Pale Ale High Seas, which is described by its brewer (the Michigan Brewing Co.) as "well suited for Hemingway-esque trips to the Upper Peninsula." You will also find another favorite from the Michigan Brewing Co. in Webberville, a Nut Brown Ale that follows the traditions of 16th-century English brewing -- it's lighter than a stout but has plenty of rich maltiness.
Baltimore Washington International in Baltimore, Md.: Situated near the Southwest Airlines ticket counters, DuClaw Brewing Company is breaking the mold of locale. Normally situated behind security, drinking havens beckon travelers who have a few hours to loll around and drink in all the hops they can before ascent. This brand new brewpub, however, is no fan of following the trend. This 108-seat restaurant packs a punch before the gates, and its wood bar, flat-screen TVs, and crafts beers have easily drawn in the masses. If you prefer lighter concoctions, try the Kangaroo Love light golden lager. For darker brews, sip the Misfit Red amber ale, or the Alchemy oatmeal stout. Can't decide? Get a sampler for $10 to try six short glasses of DuClaw's favorites, and keep track of each with a personalized score card.
Dallas/Fort Worth International in Dallas, Texas: If you're looking for a place to kick back at DFW, the best beer on the Manhattan-sized aerodrome may just be at Tigin Irish Pub & Restaurant. You'll find it in International Terminal D, out by Gate D20. A pint of Guinness goes down nicely -- whether solo, or in tandem with food. The homemade shepherd's pie is particularly good with the beautifully bitterish taste of Guinness. The dish is made from ground sirloin and diced vegetables in savory gravy. It's topped off with colcannon (mashed potatoes with cabbage). The fame of this particular airport pub is spreading like Irish mist. That's because Terminal D is one of the world's great crossroads, a prime international departure point for the some of the world's largest airline carriers.
Orlando International Airport in Orlando, Fla.: This airport has a lot to offer the kids, but there are also some great adult distractions here too. Head to McCoy's Grill located in the Orlando Airport Hyatt Regency Hotel. Enjoy a fresh locally caught mahi sandwich and wash it down with an equally fresh Orlando Blonde Ale or an Orlando Red Ale organic beer. Both beers are brewed less than 15 miles from the Orlando Airport. If you are in the mood for something a little more global, McCoy's offers more than 20 different brews from all over the world. Try a Peroni, Sapporo, or a Pilsner Urquel.
To download the full version of the Beer Lover's Airport Guide, please visit www.cheapflights.com. A Canadian Beer Lover's Airport Guide featuring top Canadian airports is also available for download at www.cheapflights.ca.
Contact Information:
Contact Information:
Emily Fisher
Cheapflights.com
Phone: 617-340-2420