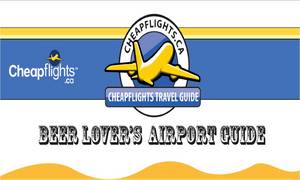 The Cheapflights Canadian Beer Lover's Airport Guide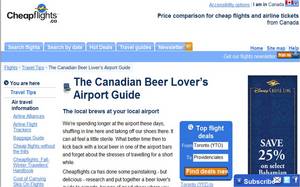 Screenshot of Canadian Beer Lover's Airport Guide tips page
TORONTO--(Marketwire - February 24, 2010) - Whether it's because people are checking in two to three hours before departure in order to get through all the new security measures or have more or longer layovers, the amount of time travellers are spending in airports nowadays seems to be increasing. So what is one to do with all the extra time? Why not kick back with a local beer in one of the airport bars and forget about the stresses of travelling for a short while? Cheapflights Canada has created a "Canadian Beer Lover's Airport Guide", mapping out some of the best airport pubs in Canada and several in the U.S.
St. Patrick's Day, a widely celebrated beer drinking holiday, is less than a month away on March 17. To get into the spirit of the occasion, Cheapflights.ca decided to combine the beer drinking custom of the festivities with travel and came up with the Canadian Beer Lover's Airport Guide. Oonagh Shiel, Cheapflights editor said, "Thirsty travellers can relax in these havens of good cheer where they can enjoy a local beer from a nearby brewery made from natural, high-quality ingredients. And people shouldn't be surprised to see green beer on tap for the St. Paddy's Day celebrations."
The Canadian Beer Lover's Airport Guide highlights beers from local breweries available at airport pubs across Canada from Victoria, B.C., all the way to Gander, Newfoundland, as well as a number of U.S. airports that are popular with Canadians. Here is a taste of some of the airports and beers featured in the guide:
Victoria International Airport in Victoria, B.C.: At White Spot you will find two Granville Island beers (brewed exclusively for White Spot at Granville Island in Vancouver) -- Nat Bailey Pale Ale and Nat Bailey Lager. The Airside Café serves Lighthouse Lager, Beacon India Pale Ale, Race Rocks Amber Ale and Keepers Stout, from the Lighthouse Brewing Company in Victoria. The Lighthouse Brewing Company has been in business since 1998, and its Amber Ale is considered by many to be its best. Light-bodied and creamy, refreshing and enjoyable.
Edmonton International Airport in Edmonton, Alberta: Roughneck Driller's Ale from the Roughneck Brewery in Calmar, Central Alberta, is available in the Mountain Lodge Bar & Grill and Molson's Pub. The Driller's Ale takes its colour from the Prairies -- golden naturally -- and has a soft malt sweetness.
Toronto Pearson Airport in Toronto, Ontario: Alexander Keith's -- the India Pale Ale and the Amber Ale -- are the specialty domestic brews at Casey's Grill Bar. Although they're not brewed in Toronto, they are Canadian (brewed in Nova Scotia). Rickard's Red is served at the Exchange Café.
Halifax Stanfield International Airport in Halifax, Nova Scotia: At the Maritime Ale House the beer line-up, in bottles, is Keith's, Canadian and Coors Light. On tap -- Rickard's Red, Rickard's Dark and Rickard's white.
St. John's International Airport in St. John's, Newfoundland: Destinations Restaurant & Bar (1st floor, 9am to 11pm) sells four locally brewed beers from the Yellow Belly Brewery in St. Johns -- Wexford Wheat, a light beer; Yellowbelly Pale Ale, a Bitter-style beer; Fighting Irish Red Ale, which is similar to Rickard's Red; and St John's Stout, a traditional Irish stout.
Often Canadians fly to, and via, many airports in the U.S. So the Canadian Beer Lover's Guide also features U.S. airports in popular cities such as Buffalo NY, Burlington Vt., Detroit Mich., Seattle Wash., Los Angeles Calif., Orlando Fla., Miami Fla., New York's JFK, Chicago's O'Hare, and Washington D.C.'s Reagan and Dulles Airports.
To download the full version of the Canadian Beer Lover's Airport Guide, visit http://www.cheapflights.ca/travel-tips/the-canadian-beer-lovers-airport-guide/
A Beer Lover's Airport Guide covering the US market featuring 25 US airports is also available for download at http://www.cheapflights.com/travel-tips/beer-lovers-airport-guide/
Contact Information:
Media Contacts:
Cheapflights.ca
Dalia Blumenthal
Publicist
Tel:+1 416-926-1967
Mobile: +1 416-788-4573
E-mail: