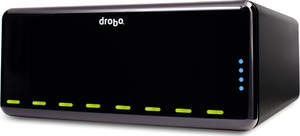 DroboPro - iSCSI storage that saved surveyed businesses more than $7,500 on average.
SANTA CLARA, CA--(Marketwire - March 1, 2010) - Data Robotics, Inc., the company that delivers the best data storage experience ever, today announced that an independent survey of its business customers highlighted a superior return on investment (ROI) and annual savings of greater than $7,500 when using the company's DroboPro system. Respondents also cited a need for reduced storage complexity, improved scalability, and backup reliability as the primary factors driving their decision to choose DroboPro (source: TechValidate, TVID: 140-118-AA1).
The survey results indicated that the business benefits of DroboPro included:
Strong, Rapid ROI: Respondents reported achieving rapid return on investment (ROI) with an average savings of more than $7,500 as compared to other storage solutions in this class (source: TVID: A5C-333-5D9). This represents greater than 500% ROI in the first eight months of deployment.

Reduced Time to Deployment: Users effectively cut time to deployment by more than 50% (source: TVID: 19E-AF7-403).

Reduced Time to Add Storage: 67% of respondents reported a dramatic reduction in the time required to add storage capacity -- by 50% or more (source: TVID: 3B7-585-233)

Storage Provisioning Cut in Half: On average, customers reduced storage provisioning time by 48% (source: TVID: 4B4-DCA-9B6)
A System Administrator for a Small Business Professional Services Company, enthused: "I spend about half as much time monitoring backup capacity, swapping out volumes, and worrying about future expansion."
"Customer migration to our business class solutions -- DroboPro and DroboElite -- has been nothing short of impressive and this survey affirms why they are looking to Data Robotics for the solution," said Tom Buiocchi, CEO, Data Robotics.
The survey and customer testimonials were independently conducted and authenticated by TechValidate and represent the aggregated feedback of more than three hundred anonymous Data Robotics customers ranging from IT administrators and architects to C-level executives. To view more research data and survey findings for DroboPro, please visit the TechValidate's Data Robotics Research Dashboard: http://www.techvalidate.com/product-research/drobopro
About TechValidate
TechValidate is a trusted third party service that verifies the usage, configuration, and benefits of technology products and services. The company directly interfaces with business and technology end users to collect and validate information about their deployments. TechValidate's promise to the end user community is to provide unbiased, verified information about the usage and benefits of technology products and services. More information is available at www.techvalidate.com.
About Data Robotics
Data Robotics, Inc., develops self-managing, self-healing storage arrays designed to ensure data is always protected, accessible and simple to manage. Built on the award-winning BeyondRAID technology, Drobo storage arrays are the first to provide enterprise-class data safety, unprecedented expandability, and advanced functionality without the complexity normally associated with RAID. For more information, visit www.datarobotics.com.
Data Robotics, Drobo, DroboPro, DroboElite, and BeyondRAID are trademarks of Data Robotics, Inc., that may be registered in some jurisdictions. All other trademarks used herein are recognized to be the property of their respective owners.
Contact Information:
Media Contact:
Elizabeth Zaborowska
Bhava Communications

510-219-8127