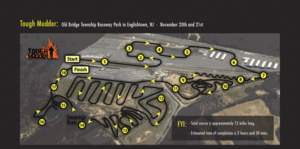 Tough Mudder Englishtown NJ Course Map Logo attached
NEW YORK, NY--(Marketwire - April 12, 2010) - Fresh on the heels of its sold-out kick-off event, Tough Mudder (www.ToughMudder.com) announced today it is now accepting applications for Tough Mudder Tri-State. This twelve-mile event will be held over two days and will feature 18 military-style obstacles. Not your typical endurance event, Tough Mudder is the toughest one-day event on the planet. With obstacles designed by British Special Forces, Tough Mudder is a true test of fitness, stamina, mental strength and all around grit. Unlike marathons and triathlons, Tough Mudder events incorporate camaraderie and teamwork -- over 70% of participants enter as part of a team.
Tough Mudder's inaugural event -- Tough Mudder NY & PA -- will take place on May 2nd at Bear Creek Mountain Resort in PA and featured one of the fastest sell-out rates for any new event on record, according to Active.com which registers 80% of all races in the US. After only eight weeks, Tough Mudder's Facebook fans outnumber those of the NYC Marathon, NYC Triathlon, Philadelphia Marathon and Boston Marathon combined. The participants at Tough Mudder NY & PA, of whom 20% are female, hail from 37 US States -- plus UK, France, Canada and Puerto Rico. In response to the record sell-out of 5,000 for its first race, Tough Mudder will accept 20,000 participants for the Englishtown event.
Tough Mudder Tri-State will be held at Raceway Park in Englishtown, NJ -- a one-hour drive from New York City. The event will feature 18 unique obstacles, beginning with Monster Chase where participants will chase a monster truck and will then proceed through a set of 17 more gasp-inducing obstacles, including:
Tunnel of Doom: Bob through a series of underwater tunnels in freezing cold water
Twinkle Toes: Make your way through a log bridge without falling into the freezing cold
Cliffhanger: Grab onto anything as you scramble up and over the hills of this muddy motor-cross track
Funky Monkey: Monkey bars were easy when you were five, but they were not covered in butter or hanging above an ice cold lake
Walk the Plank: Test your fear of heights as you walk the plank and plunge up to 15 feet into icy cold water
Firewalker: Walk, run or leap over fire -- expect four foot high flames from this kerosene-soaked straw
In true Tough Mudder tradition, participants are encouraged to leave traditional running gear at home, with costumes, tattoos and mullets encouraged. No tattoo? No problem. Tough Mudder will offer free tattoos of its "bad-ass" logo to all finishers who truly want to commemorate their epic achievement. Participants will celebrate simply completing the course at the post-event party, which will feature free beer, live music, and an award ceremony to honor the fastest finishers for men, women and military veterans (over 45). Best Costumes and Best Mullets will also be recognized. Although there are no monetary prizes at Tough Mudder, participants will receive orange Tough Mudder headbands as medals and the top 5% of all finishers will be given free entry to the World's Toughest Mudder -- an event to be held in 2011 whose aim is to find the toughest person in the US.
"It's amazing to reflect on the cult status we have achieved so quickly. With more than 7,500 Facebook fans, 15 training videos submitted and people doing things like running up the steps of the Philadelphia Museum of Art in a bikini and high heels a la the movie Rocky in exchange for entry into our event, we are thrilled to announce the Tri-State event, which we think will be truly epic," said Guy Livingstone, co-founder of Tough Mudder.
Tough Mudder is a proud supporter of the Wounded Warrior Project (WWP). To help its cause and support the needs of severely injured service men and women, Tough Mudder is offering a special discount to participants who commit to raising funds for the WWP. Tough Mudder's first event has already raised more than $100,000 and hopes to raise over $130,000 from its first event, $350,000 in 2010 and over $1 million by 2011.
Additional Tough Mudder events have been planned for 2010 at Bear Valley Mountain Resort in Northern CA and Buffalo Creek MX near Austin, TX. For additional information on Tough Mudder please see the website at www.ToughMudder.com.
Follow Tough Mudder on Facebook and Twitter
Contact Information:
Media Contact
Kendra Boccelli
Boccelli & Co. PR for Tough Mudder
O: 1.978.499.0844
M: 1.617.645.3205