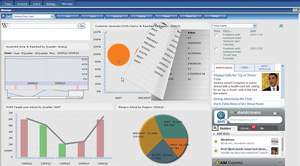 Information Builders¿ Performance Management Framework is fully integrated into WebFOCUS 8, and is seamlessly linked to analytical and operational reporting features, blending them together to successfully link business strategies to results.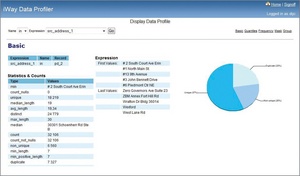 WebFOCUS 8 data integrity tools provide cleansing, enrichment, and the merging and matching of all enterprise data assets, including data warehouses, source operational systems, and incoming third-party data.
NEW YORK, NY and LAS VEGAS, NV--(Marketwire - April 12, 2010) - Information Builders, the independent leader in widely deployed, customer-facing, and operational business intelligence (BI) solutions, is proud to announce the release of WebFOCUS 8.
The latest BI platform includes significant enhancements, which address four critical elements for smarter decisions, including data integrity, performance management, business intelligence, and advanced analytics. WebFOCUS 8 also delivers improved end-user personalization and unique security for large-scale applications as well as customer-facing or public deployments.
"Years ago, business intelligence was almost considered a luxury," according to Michael Corcoran, senior vice president and chief marketing officer of Information Builders. "Organizations were content to manage their business from a latent, historical perspective. While adoption of BI in recent years has escalated, information is still largely under deployed and under utilized. Today's business climate dictates that organizations take a proactive, versus reactive, approach to managing the business. Accomplishing this requires enhanced real-time decision-making throughout the organization. WebFOCUS 8 ensures data accessibility and integrity, drives metrics-based management, and makes advanced BI pervasive throughout every operation of the enterprise to make this transition a reality. This release also extends our dramatic market lead in customer-facing, business-to-business, and public Web site deployment of information and analytics."
Data Integrity
Enterprises today continue to struggle with making smart decisions because employees are either armed with latent, inaccurate, or incomplete information. WebFOCUS 8 is the first business intelligence platform on the market to incorporate data profiling, real-time data quality management (DQM), and master data management (MDM) components. These tools provide cleansing, enrichment, and the merging and matching of all enterprise data assets, including data warehouses, source operational systems, and incoming third-party data. This provides data integrity enterprise-wide and supports the ability to make qualified real-time business decisions.
Performance Management
In WebFOCUS 8, the Performance Management Framework (PMF) has been fully integrated into the BI platform. The PMF interface now includes dramatic gadgets that leverage Adobe Flex technology and charts. Performance management functionality is seamlessly linked to analytical and operational reporting features, blending them together to successfully link business strategies to results. The addition of key risk indicators now allows organizations to manage and assess the impact of risk in meeting performance objectives and overall strategic goals. PMF scorecards, dashboards, and strategy maps can drill down directly to detail-level data contained within WebFOCUS operational reports. Operational data from any back-end system can also easily roll-up into metrics that appear within PMF. Collaborative features allow users to share information. PMF dashboard gadgets can be created by the InfoAssist ad hoc reporting tool or obtained from third-party gadget sources. PMF shares the new platform's end-user personalization philosophy, allowing employees and operational managers to design their own views of performance metrics and risk measures.
Business Intelligence
Enhancements to the WebFOCUS platform include a new BI Portal for robust dashboard solutions, including role- and user-based customization. Developers can build and deploy dashboard applications based on roles and security as defined in the platform's enhanced security system. End users can even design and personalize their own dashboard environment. Personalization includes the use of the innovative ribbon-based interface, which now extends consistently across the BI Portal and InfoAssist tools. The WebFOCUS InfoAssist ad hoc tool also provides levels of customization to extend the use of ad hoc query and reporting to the broadest range of end users regardless of skill level. Other vendor tools typically offer only power user tools and limited static output, creating a broad information gap, resulting in unused software licenses.
WebFOCUS Active Technologies have been enhanced to allow users to create portable BI applications, not just interactive reports and analytics. These applications incorporate robust dashboarding, ad hoc reporting, animated charting, and data sets into a massively deployable single document for disconnected users.
Rich Internet Applications (RIAs) are easily built within the WebFOCUS development environment with the addition of AJAX and Flex controls. Developers can easily incorporate animations, Web 2.0 gadgets, interactive GIS, and other components without the need for third-party tools.
WebFOCUS 8 meets extreme real-time demands through the Activity Monitor for business activity monitoring (BAM) and the CEP Enable capability for complex event processing. These solutions capture end-to-end transaction and workflow data across multiple applications and business processes, such as B2B, summarizing and displaying metrics to automate intelligence decisions or enable managers to make time-critical decisions.
As a member of the Open Web Security Application Security Project (OWASP), WebFOCUS has achieved Application Security Verification Level 3 certification to meet the strictest security requirements for our federal and commercial customer applications. WebFOCUS 8 is the first OWASP-certified BI platform to ensure application integrity and security.
WebFOCUS is also certified for 508-compliant usability requirements by a third-party auditor.
Advanced Analytics
WebFOCUS 8 introduces two new advanced analytic components: Visual Discovery 8 for visual analytics and RStat 1.2 for predictive analytics.
Visual Discovery can now take advantage of the 64-bit architecture of desktop computers to represent tens of millions of rows of data in interactive visual displays. With WebFOCUS 8 Visual Discovery, employees can review years of historical data and, in just seconds, identify the most important relationships within that data, and which factors are most likely to negatively or positively affect their business

WebFOCUS RStat compiles predictive modules and embeds them into operational reports, dashboards, and custom applications. Integrating multiple sources of data, analytics, visualization, and predictive models, these applications drive significant improvements in areas such as business forecasting, fraud detection, social services, and law enforcement
"The four critical elements for smarter decision-making are often offered as standalone technologies or non-integrated bundles from other vendors. However, in the most successful business intelligence implementations, they must all work together, influencing and complementing each other," said Gerald Cohen, president and CEO of Information Builders. "WebFOCUS 8 delivers a single, comprehensive platform, designed and built by Information Builders, that provides all four critical elements -- data integrity, performance management, business intelligence, and advanced analytics. Now, instead of experiencing the pitfalls of an incomplete information strategy, companies can rely on a single framework that can deliver faster, more tangible results, and help them realize a more immediate return."
"Our research shows that competitiveness of an organization correlates with the level of pervasiveness of BI. But to achieve pervasive BI that supports enterprise-wide decision-making processes, organizations need to focus on much more than providing query and analysis functionality to so-called power users," said Dan Vesset, vice president of business analytics research at International Data Corporation (IDC). "Focus on data quality and governance, formal performance management, flexibility of the solution, and helping internal and external users understand data and metrics are key factors leading to more pervasive BI. With this release of WebFOCUS 8, Information Builders takes another important step toward improved support for these functions."
WebFOCUS 8 is available now in beta form, and will be generally available in Q4.
About Information Builders
Information Builders' award-winning combination of business intelligence and enterprise integration software has been providing innovative solutions to more than 12,000 customers for the past 35 years. WebFOCUS is the world's most widely utilized business intelligence platform. It provides the security, scalability, and flexibility needed at every level of global extended enterprises. Its simplicity helps create executive, analytical, and operational applications that reach dozens to millions of users. Information Builders' iWay Software suite provides state of the art, multi-purpose, pre-built integration solutions that address all business process, B2B, application, data and information management integration requirements. Its integration adapters have been adopted by the leading software platform providers. Information Builders also offers solutions in the performance management, business activity monitoring, and enterprise search markets. The company's comprehensive enterprise product offerings give Information Builders' customers the ability to grow and innovate according to their needs.
Information Builders' customers include market leaders in all major commercial industries, federal and local government agencies and leading educational institutions globally. Headquartered in New York City with 90 offices worldwide, the company employs 1,350 people and has more than 350 business partners. More information is available at informationbuilders.com.
Featured Link:
www.informationbuilders.com
Contact Information:
Press Contacts
Kathleen Moran
Information Builders
(917) 339-6313
kathleen_moran@ibi.com

Erica Salamida
LEWIS PR
(617) 226-8840
InformationBuilders@lewispr.com