'Head to Head' Premieres Nationally on FSN on April 12, 2010.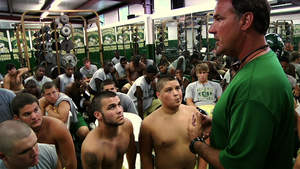 Coach Pierson addresses the Mustangs in episode 1: Make Yourself Special
NEW YORK, NY--(Marketwire - April 12, 2010) - Young & Rubicam announced today that it has formed an unprecedented partnership with Fox Sports Net (FSN) to develop original client-sponsored programming.
"Head to Head" -- an original TV series created and produced by Young & Rubicam as part of its advertising relationship with privately owned wireless provider Cellular South -- follows two rival Mississippi high school football coaches, their teams, the schools and the communities as they make their way through the 2009 season. Beginning April 12, the 12-episode series will air nationally across various FSN affiliates, reaching over 85 million households.
"This is a new approach to our business that we are excited to explore as an agency," said Tony Granger, Global Chief Creative Officer. "Our ultimate goal is create entertaining content with broad national appeal, but with special appeal to the target prospects of an individual client. In this case, Cellular South serves customers who have a passion for big time Friday night high school football. Partnerships like this allow us to share intellectual copyrights and revenues while engaging consumers and providing our clients with multiplatform opportunities that help them achieve their business goals."
Through the agreement, Young & Rubicam will provide FSN with the "Head to Head" series with Cellular South as the presenting sponsor. Additionally, Young & Rubicam and FSN -- in conjunction with Home Team Sports (HTS), FSN's affiliate network partner -- will work together to secure advertisers for high school football integration opportunities across a variety of mediums.
"'Head to Head' proves that Young & Rubicam can deliver compelling content that appeals to a wide audience," said David Sussin, FSN's VP of Programming. "We love the show and are excited to bring it to our affiliates and their viewers across the country."
Young & Rubicam originally developed "Head to Head" as part of its innovative and successful 2009 branded entertainment campaign for Cellular South. The wildly popular series drew millions of viewers when it aired in key Southern markets last fall. Cellular South initially tasked the agency to design and drive traffic to their user-generated web channel. But Young & Rubicam saw the potential to develop a campaign that could excite an entire community and appeal to broad audiences.
About Young & Rubicam
Young & Rubicam is one of the world's leading marketing communications companies. Founded in 1923, Young & Rubicam was the first agency to be founded by a creative, Raymond Rubicam. Today, run by Global CEO Hamish McLennan and Global CCO Tony Granger, the agency's work spans the communications spectrum, including digital, viral, social and experiential marketing, to build brands that are irresistible to consumers.
Young & Rubicam has 186 offices in 90 countries around the world. Its clients are some of the world's most prestigious global corporations, including Accenture, Bacardi, Campbell's Soup Company, Colgate-Palmolive, Danone, Land Rover, LG, Xerox and Virgin Atlantic, to name a few. For more information, visit http://yr.com.
About Fox Sports Net
FSN is the nation's leading provider of local sports. Through its 19 owned-and-operated regional networks, FSN serves as the TV home to more than half of all MLB, NHL, and NBA teams. FSN's nationwide roster of regional sports networks includes FOX Sports Arizona, FOX Sports Carolinas, FOX Sports Detroit, FOX Sports Florida, FOX Sports Houston, FOX Sports Indiana, FOX Sports Kansas City, FOX Sports Midwest, FOX Sports North, FOX Sports Ohio, FOX Sports Oklahoma, FOX Sports South, FOX Sports Southwest, FOX Sports Tennessee, FOX Sports West, FOX Sports Wisconsin, PRIME Ticket, SportSouth, and Sun Sports. FSN produces close to 5,000 live local events each year, including more than 2,800 in high definition, making FSN the most prolific producers of HD Sports programming in the country. In addition to its thousands of home team games and a wide variety of locally produced sports programs, FSN televises national sports events and programs, including Pac-10 and ACC basketball and Pac-10 and Big 12 football.
About Cellular South
Cellular South is a privately-owned diversified mobile communications company passionately committed to helping customers get the most out of their wireless devices and services. The nation's largest privately owned wireless communications provider accomplishes this goal by providing the most reliable and advanced 3G nationwide wireless voice and data network, offering industry-leading family and unlimited flat rate voice, text and mobile web plans, and through its online and in-store Discover Centers, which give customers easy, simple and convenient tools, tips, advice and information on how to get the most out of their mobile phone. For more information, visit www.cellularsouth.com. Follow our news on Twitter at http://twitter.com/cellularsouth.
Contact Information:
Contact:
Kristen Bryan
DiGennaro Communications

212.966.9525