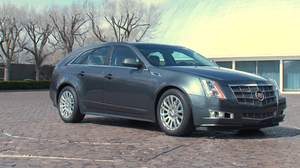 2010 Cadillac CTS in ChromaFlair (tm) Thunder Gray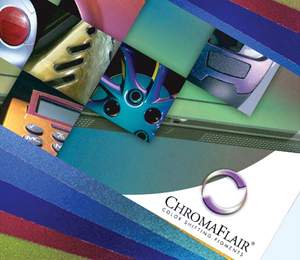 JDSU ChromaFlair (tm) color shifting pigments
MILPITAS, CA--(Marketwire - April 15, 2010) - JDSU (NASDAQ: JDSU) (TSX: JDU) today launched the next edition of its "JDSU From a Different View" campaign, designed to showcase the far-reaching impact of the company's innovative technology. The latest segment on www.jdsu.tv addresses the increasing importance of color and color forecasting in the differentiation of major consumer brands. The segment includes expert designers from Cadillac that provide insight into color trends in the auto industry and how color impacts the car buying process.
Cadillac uses JDSU ChromaFlair™ pigments on its cars to create subtle and sophisticated color options for discerning customers. The pigments add depth to cars by changing color when viewed from different angles. Most recently, Cadillac leveraged JDSU pigments for its Tuscan Bronze paint as a special color option for the 2010 Cadillac CTS, STS and DTS models, while Thunder Gray is available on 2010 CTS and STS models.
"We have been collaborating with JDSU for nine years and in that time have created six special car colors for our Cadillac vehicles," said Chris Webb, senior creative designer at Cadillac. "In addition to providing very unique pigments, JDSU has been a great resource for color trends to help keep Cadillac products at the forefront as a premium brand."
"Using JDSU ChromaFlair pigments on our Cadillac vehicles allows us to offer something unique and highly desirable to our customers," said Michelle Killen, exterior paint designer at Cadillac. "Differentiation is a major factor when choosing color, and up to 50 percent of new car buyers upgrade to special option colors on Cadillac vehicles."
"Color plays heavily into people's purchasing decisions every day, and we are proud to help Cadillac develop distinct colors that reflect their buyers' personal style," said Barb Parker, color designer at JDSU.
As part of its Custom Color Solutions service, JDSU helps brand owners and designers better differentiate products and brands through the use of color based on years of color design expertise and an intimate understanding of brand owners' needs throughout the design cycle process.
To view video interviews and get more information, please visit "JDSU from a Different View" now at www.jdsu.tv.
About JDSU
JDSU (NASDAQ: JDSU) (TSX: JDU) enables broadband and optical innovation in the communications, commercial and consumer markets. JDSU is the leading provider of communications test and measurement solutions and optical products for telecommunications service providers, cable operators, and network equipment manufacturers. JDSU is also a leading provider of innovative optical solutions for medical/environmental instrumentation, semiconductor processing, display, brand authentication, aerospace and defense, and decorative applications. More information is available at www.jdsu.com.
Contact Information:
Contact Information
JDSU
Investors: Michelle Levine 408-546-4421 or