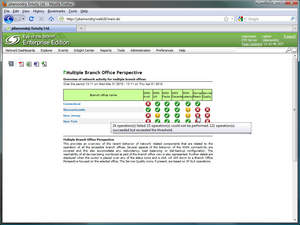 Keep distributed branch offices delivering optimal business value with EYE.
Get more business value from your network management system with Eye of the Storm Enterprise.
MARLBOROUGH, MA and LONDON--(Marketwire - April 20, 2010) -
News Facts
Entuity®, the leader in next-generation, value-focused network management, today announced that it will demonstrate its Eye of the Storm (EYE) Network Management Software for small to large enterprises April 27-29 at Interop 2010 in Las Vegas, NV.
On the show floor, Entuity, Exhibit # 957, will feature its innovative EYE InSight Center™ which provides business-centric dashboards giving at-a-glance visibility to key operational initiatives. The EYE InSight Center allows IT organizations to focus on business results, not just technical IT metrics through its customizable dashboards. Reports can be easily generated on the business value of IT deliverables specifically meaningful to non-IT audiences such as CEOs, CFOs, CIOs, business unit managers and branch managers.
Four EYE InSight Center Perspectives are currently available for improved business-centric management of Network Delivery, Service Delivery and Multiple Branch Office Locations. The fourth Perspective designed for Green IT provides methodologies to quickly develop Green IT programs that immediately save on power consumption and reduce power utility bills.
To schedule a meeting with Entuity at Interop, please email: info@entuity.com.
Entuity is actively seeking channel partners, managed service providers and systems integrators of global distinction looking to complement their current framework or elemental tools offerings with the scalable, easy-to-deploy EYE network management solutions. For more information about Entuity's partner program, visit www.entuity.com/partners.
Supporting Quotes
Quote, attributed to Kenneth Klapproth, vice president of marketing, Entuity
"Since introducing our InSight Center Perspective, we've received noteworthy praise from the industry, most recently being awarded the Network Products Guide 2010 Award for product innovation. Customers of all sizes and in all industries tell us that not only does a network management solution have to have the technical depth and enterprise scalability to cover their distributed infrastructures; it has to help them make better business decisions to improve their profitability. EYE InSight Center Perspectives do just that."
Multimedia Elements
About Entuity
Entuity is the leading provider of next-generation, value-focused network management and service delivery solutions at price points to match a range of business models. The Company's line of Eye of the Storm (EYE) software automatically discovers and captures unrivalled network data and analytics, and provides integrated fault, device and flow-based performance management capabilities that help businesses reduce network downtime, lower operational and capital costs, achieve sustainability goals, commit to, deliver and prove service level commitments, and ensure network configuration compliance.
Winner of numerous industry and business awards including the Network Products Guide 2010 Product Innovation Award for Network Management, EYE has been praised for its fast deployment, ease of use, and low cost of ownership. Entuity customers include enterprises, SIs, and MSPs such as ABB, Aptina, Astra Zeneca, BMC Software, CLS Services, DIRECTV, Deutsche Bank, IBM Global Services, Perot Systems, Phones 4U, The Royal Bank of Scotland, SASSA, Sony, Visteon, and WorldPay. For more information on Entuity, please visit www.entuity.com or call +1.508.357.6346 (North America) or +44 (0) 20 7444 4800 (Europe).
Entuity and Eye of the Storm are registered trademarks of Entuity, Ltd. All other marks and names mentioned herein may be trademarks or registered trademarks of their respective companies.
Contact Information:
Contact Information:
Kenneth Klapproth (corporate)
Entuity
+1.508.357.6347