Chenee Capuyan of the Philippines, Jin Hur of Korea and Jesus Molinares from Peru perform in the finals of the Voice of McDonald's global singing competition in Orlando, Fla., Thursday, April 22, 2010.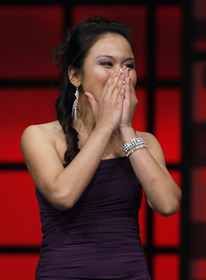 Voice of McDonald's winner Chenee Capuyan of the Philippines reacts to the announcement that she has been named the 2010 Voice of McDonald's during the finals of the global singing competition in Orlando, Fla., Thursday, April 22, 2010. (Photo/Reinhold Matay/McDonald's)
ORLANDO, FL--(Marketwire - April 22, 2010) - Chenee Capuyan, a McDonald's restaurant employee from Davao Del Sur, Philippines, stunned celebrity judges and an audience of more than 14,000 with a powerful performance of Destiny's Child's "Stand Up for Love" to win the Voice of McDonald's global singing competition.
A panel of internationally-renowned music industry professionals judged the final competition: Estelle, Grammy Award-winning R&B singer; Troy Carter, chairman/CEO of Atom Factory, Inc., whose clients include Lady Gaga; Walter Afanasieff, Grammy Award-winning music producer whose credits include recordings by Mariah Carey and Celine Dion; and prominent entertainment attorney Ken Hertz.
As the new Voice of McDonald's, Capuyan takes home $25,000 and an all-expense paid trip to Los Angeles with two VIP tickets to the Lady Gaga "Monster Ball Tour" concert in August 2010, courtesy of Troy Carter and the Atom Factory. Walter Afanasieff surprised Capuyan with an invitation to record a demo in his Los Angeles studio. She will also meet Elton John, who is exclusively performing tonight at the McDonald's 2010 Worldwide Convention. In addition, Capuyan wins a new MacBook courtesy of the Coca-Cola Company.
"All of those people watching me perform on stage -- it was really amazing," said Capuyan. "I'm so thankful to the McDonald's family for what I've learned and experienced."
Jin Hur from Goyang City, South Korea, took second place and received $15,000, and Jesus Molinares from Lima, Peru, placed third to win $10,000. McDonald's executives upped the ante by adding $5,000 to the second and third place prizes after hearing the finalists' outstanding performances.
"I've worked with some of the best singers in the music industry, and I can honestly say I was blown away by Chenee's talent and passion, as well as Jesus' and Jin's," said Estelle. "I think they've got a bright future ahead of them, and kudos to McDonald's for giving them this opportunity."
Accompanied by a live band and backup singers, the top three contestants poured their hearts and souls into their final performances for an audience of more than 14,000 McDonald's owners/operators attending McDonald's 2010 Worldwide Convention. Owner/operators packed the performance hall and waved country flags and signs of support for their finalists.
All 12 contestants participated in a rare, private audition at the Disney casting offices arranged by Talent Casting Director for Disney Parks Ray DeChiara, who judged Monday's semi-finals.
In addition, they received an iPod touch from the Coca-Cola Company, karaoke kit from The Karaoke Channel, Beats from Dr. Dre headphones from Universal Music Group and Voice of McDonald's attire. All 12 also received $500 for a celebration party with co-workers at their restaurants and a $1,000 donation in their names to their local Ronald McDonald House Charities or other children's charity.
Voice of McDonald's is a worldwide contest to discover, recognize and reward the most talented singers among McDonald's 1.6 million restaurant employees. In 2005, more than 2,500 employees entered the inaugural competition, and in 2007, more than 3,600 singers entered. In this third edition of the competition, more than 10,400 employees entered before the field was narrowed down to just 12 final contestants who were awarded a world-class opportunity to achieve their dreams: two whirlwind weeks in Orlando, with a guest, to experience professional vocal coaching, expert industry advice and a great time. On Monday, the field was narrowed down to three finalists who competed today for the title.
Winning Voice of McDonald's in 2008 helped Natércia Pintor, Lisbon, Portugal, jump-start her music career. Following her win, she returned to the U.S. to record a song produced by previous Voice of McDonald's judge and Grammy Award-winning song writer and producer Rodney "Darkchild" Jerkins, and subsequently released her first CD, "My Soul."
To read more about the Voice of McDonald's winner and other finalists and download hi-res photos and videos from Orlando, visit www.mcdonalds.com/voice. Broadcast-quality video footage is available on www.thenewsmarket.com/mcdonalds.
About McDonald's
McDonald's (NYSE: MCD) is the leading global foodservice retailer with more than 32,000 restaurants in more than 100 countries. Approximately 80 percent of McDonald's restaurants worldwide are owned and operated by franchisees. Please visit our website at www.aboutmcdonalds.com to learn more about the Company.
©2010 McDonald's, McDonald's Corp., Voice of McDonald's, Disney, MacBook, iPod, The Karaoke Channel, Beats by Dr. Dre, Ronald McDonald House Charities and Coca-Cola Company are trademarks and/or registered trademarks of their respective companies.
Contact Information:
For More Information:
Lisa McComb
McDonald's
lisa.mccomb@us.mcd.com
630-484-1158

Soraya Garcia
McDonald's
soraya.garcia@us.mcd.com
630-400-4014

Hannah Schroder
JSH&A
hannah@jsha.com
630-247-6957