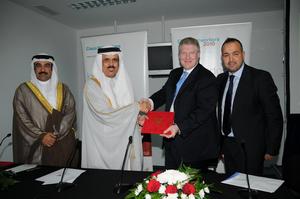 From Left to Right: Shaikh Hisham AlKhalifa, Undersecretary for Resources and Services, Minister of Education His Excellency Dr. Majid Bin Ali Hasan Al-Nuaymi, Duncan Mitchell (SVP Emerging Markets and Executive sponsor of Networkers), Tarek Ghoul (General Manager, Cisco Gulf region).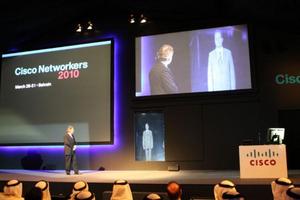 Cisco Senior Vice President, Emerging Technologies Marthin de Beer appeared 'virtually' on stage by means of an impressive three-dimensional Cisco Holographic TelePresence(R) beamed in live, using the power of the network, from San Jose, California.
MANAMA, BAHRAIN--(Marketwire - May 17, 2010) - Cisco Networkers Bahrain 2010, which took place from 28-31 March 2010 at the Bahrain International Circuit (BIC), Sakhir in Bahrain, hosted over three thousand networking, IT and communications professionals. The event firmly reinforced Cisco's (NASDAQ: CSCO) ongoing commitment to the Middle East to support accelerated and sustained information and communications technology growth throughout the region.
Highlights / Key Facts:
Impressive attendance figures. More than 3,000 ICT professionals, including Cisco executives, customers and partners, as well as industry analysts and the press, attended this year's event. An additional 2,148 attended virtually through the Cisco® Live and Networkers Virtual platform.
Keynote sessions with a virtual twist. The opening keynote session was attended by Crown Prince of Bahrain HRH Prince Salman bin Hamad Al-Khalifa, who is also chairman of the Economic Development Board, and his entire Cabinet. Wim Elfrink, Cisco chief globalisation officer, officially opened the event, followed by guest speaker His Excellency Shaikh Ahmed bin Ateyatallah Al Khalifa, minister of Cabinet Affairs, Bahrain. Elfrink also introduced the Cisco senior vice president of emerging technologies, Marthin de Beer, who appeared 'virtually' onstage by means of an impressive three-dimensional Cisco TelePresence™ holograph beamed in live, using the power of the network, from San Jose, Calif. Day Two saw Gary Moore, senior vice president of Cisco Services, present the keynote.
Executive Leadership Symposium (ELS). As the C-level component of Bahrain Cisco Networkers, ELS brought to life the strength of Cisco's brand, encapsulating the human network through high-level peer exchange and thought leadership insights. A total of 67 senior executives from around the Middle East and as far as Kenya, South Africa, Turkey and Europe came together over one and a half days and 16 interactive sessions to meet, share, learn and network with peers over ideas on innovation, human capital development, best practices in harnessing technology and developing collaborative opportunities within the rise of emerging economies.
Breaking news live at the Networkers. In the presence of more than 70 reporters, industry analysts and VIP delegates, Cisco hosted two press conferences on consecutive days:

The Bahraini Ministry of Education signed an memorandum of understanding (MOU) with Cisco to discuss how to develop a 'technology blueprint' for educational excellence and a model school of the 21st century. Attending the official signing ceremony were the Bahrain minister of education, His Excellency Dr Majid Al Nuaimi, and Duncan Mitchell, Cisco senior vice president of emerging markets and executive sponsor, Networkers Bahrain 2010.
The Bahrain Internet Exchange (BIX) signed an MoU with Cisco to discuss how to help accelerate the kingdom of Bahrain's national development priorities as well as boost its presence in the Gulf region. Attending the official signing were Minister of Cabinet Affairs His Excellency Shaikh Ahmed bin Ateyatallah Al Khalifa, who is the minister responsible for the telecommunications sector for the kingdom of Bahrain; Mohamed Al Thawadi, BIX director; and Mitchell.
Public Cisco TelePresence arrives in Kuwait: Cisco also announced that FASTtelco, the leading telecom service provider in Kuwait, will launch the first public Cisco TelePresence room in Kuwait. The public TelePresence room will be hosted in the Sheraton Kuwait, a Luxury Collection hotel. Connectivity will be delivered by Tata Communications, a leading provider of the new world of communications.

Dedicated press and analyst sessions: Cisco's subject matter experts presented dedicated press and analyst sessions and discussion forums on Cisco's architectural plays -- globalisation, collaboration, Internet Protocol Next-Generation Networks, borderless networks, security, data centre and virtualisation, and country transformation.
Cisco Networkers Innovation Award Winners 2010: Mike Pilbeam, vice president of solutions architectures and technology, Cisco Emerging Markets, hosted the event's inaugural Innovation Awards ceremony. Awards winners were:

Special Recognition Award for eGovernment Readiness: E-Government Authority in Bahrain
Most Innovative Data Centre Project: Mobily, Saudi Arabia, for Mobily hosted data center project
Most Innovative Service Provider Service Offering: du, UAE, for the du Heart Project
Most Innovative Unified Communications and Collaboration Project: Garanti Bank, Turkey, for Video Contact Centre Project
Most Innovative Business Video Project: Tata Communications Ltd, India, for Global Telepresence Exchange and Public Rooms Project
Most Innovative Mobility Project: du, UAE, for Dubai Metro Wi-Fi Solution
Most Society Impacting Network: Ministry of Information and Communications Technology (MoICT), Jordan, for Jordan's National Broadband Network (NBN).

State-of-the art World of Solutions exhibition area: Cisco's latest innovations and technology solutions were demonstrated alongside more than 50 Cisco partners' demonstrations. World of Solutions also enabled visitors to 'ask the expert' about networking challenges and meet with Cisco engineers to discuss emerging and core technology solutions.
Executive Quotes:
Duncan Mitchell, senior vice president, Emerging East, Cisco
"Networkers Bahrain 2010 exceeded Cisco's expectations on just about every level. Together, as 'One Cisco,' we achieved incredible results. Being part of an opening keynote that was under the patronage of, and attended by, HRH Prince Salman bin Hamad Al-Khalifa, crown prince and chairman of the Economic Development Board, and his entire Cabinet, was a unique moment for us all at Cisco. I personally was also incredibly pleased to meet so many of our partners and customers in the really exceptional World of Solutions -- without doubt, a fantastic example of technology and talent in action. I was truly inspired by the teamwork and collaboration I saw in action last week at the Bahrain International Circuit -- what a great venue!"
Links / URLs:
About Cisco: Cisco (NASDAQ: CSCO), the worldwide leader in networking that transforms how people connect, communicate and collaborate, this year celebrates 25 years of technology innovation, operational excellence and corporate social responsibility. Information about Cisco can be found at http://www.cisco.com. For ongoing news, please go to http://newsroom.cisco.com. Cisco equipment in the Middle East is supplied by Cisco Systems International BV, a wholly owned subsidiary of Cisco Systems, Inc.
Cisco, the Cisco logo, Cisco Systems and Cisco TelePresence are registered trademarks or trademarks of Cisco Systems, Inc. and/or its affiliates in the United States and certain other countries. All other trademarks mentioned in this document are the property of their respective owners. The use of the word partner does not imply a partnership relationship between Cisco and any other company. This document is Cisco Public Information.
For direct RSS Feeds of all Cisco news, please visit "News@Cisco" at the following link:
http://newsroom.cisco.com/dlls/rss.html
Contact Information:
Contact Information:
Press Contact:
Jumana Akkawi
Cisco
+971 55 5010881
jakkawi@cisco.com

Analyst Contact:
Penny Bruce
Cisco
+44 7824 447 330
penny@loenberg-ar.com

Investor Relations Contact:
Matt Hardwick
Cisco
+44 20 8824 1970
mahardwi@cisco.com