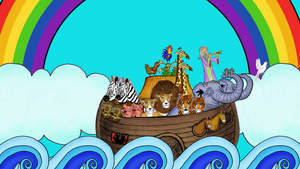 Little Angels features images of classic themes from the Bible like Noah's Ark
View Little Angels Trailer
LAS VEGAS, NV--(Marketwire - May 19, 2010) - Little Angels launches three iPhone applications to accompany the new DVD and CD collection focused on early childhood learning through traditional Christian teachings. Little Angels iPhone applications serve as an interactive way to help parents reaffirm Christian values and the basic lessons children are learning through the Little Angels DVD collection.
With the new Little Angels iPhone applications, busy parents can take advantage of the latest on-the-go technology combined with positive messages about faith. The first application, Little Angels Prayers, shares encouraging words of faith, love and inspiration. Each day for six months, Little Angels delivers a special prayer that parents can enjoy with their children. The second application, Little Angels ABCs, features colorful and educational Christian-themed ABC flashcards. The third application, Little Angels 123s, includes digital flashcards as a tool for children to learn about numbers and Christianity in a familiar, fun format.
"The entire Little Angels collection was designed to be interconnected to enforce the same wholesome values through a variety of channels," says Jennifer Worthington, creator of the Little Angels product line. "Whether connecting with your family while watching the DVDs or engaging in the iPhone applications on the go, parents can now enjoy a full convenient, faith-based product line to share with their children."
Through images and music, the Little Angels collection is the perfect way to expose young children to Christianity and the importance of faith and love as they grow and expand their minds. Comprised of two DVDs, an accompanying CD of hymns, and three iPhone applications, the Little Angels product line is the only early childhood CD and DVD collection of its kind, one that sparks a child's imagination and promotes core Christian values. A fourth application, Little Angels Say Grace, gives ideas for spiritual thankfulness and will be available soon on iTunes. Created by a mother to fill a void in available Christian products, Little Angels is something the whole family will love.
Little Angels collection of multimedia products offers a brand-new choice for early childhood discovery and is a great option for Christening, Birthday and Baptism gifts. All three applications are now available on iTunes: Little Angels Prayers is $3.99, Little Angels ABCs is $1.99 and Little Angels 123s is $1.99. The Little Angels DVDs are priced at $19.99 and the CD is $14.99, prices include shipping and handling and can be purchased at www.LittleAngelsVideo.com.
Buy our Apps from iTunes.
Become a fan on Facebook.
Follow us on Twitter.
View us on YouTube.
Contact Information:
FOR MORE INFORMATION:
Kate Turner Whiteley/Wendy Zamaripa
Kirvin Doak Communications
702-737-3100