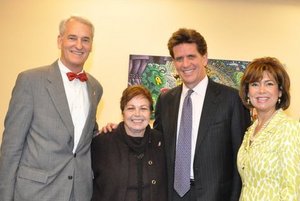 Photo ID (L-R) President & CEO of PROMERICA BANK - John H. Quinn, President & Co-Founder of La Agencia de Orci - Norma Orci, President & CEO of Frito-Lay North America - Al Carey, and Founding Chairwoman PROMERICA BANK - Maria Contreras-Sweet
LOS ANGELES, CA--(Marketwire - May 19, 2010) - Promérica Bank (OTCBB: PMRA) welcomed Al Carey, the President and CEO of Frito-Lay North America, to its Center of Success Speaker Series at the Bank's headquarters in downtown Los Angeles.
Before an audience of Los Angeles business and civic leaders, Chairwoman of Promérica Bank, Maria Contreras-Sweet, introduced Al Carey, President of Frito-Lay, a PepsiCo company and a global market leader in the forefront of critical issues such as health and environmental sustainability. She announced, "I invited my good friend Al Carey to join us at Promérica's Center of Success to provide insights on how to grow your businesses and help spur job growth in our community. We are committed to providing our clients with direct access to educational and consultative advice from business experts and industry leaders." Mr. Carey shared his vision and strategies on growth and innovation and detailed how he has taken new products from inception to market leader positions.
Mr. Carey's informative case studies exemplified his entrepreneurial leadership style as he inspired the small business leaders with his advice, "You need to move with action, even if you make some mistakes, because you can't sit around and do nothing." He further described his action-oriented strategies in response to market trends toward healthier and green alternatives. Norma Orci, a participant and President/Co-founder of the award-winning Hispanic ad agency La Agencia de Orci, shared, "Al Carey's speech was motivating and relevant in today's marketplace where entrepreneurs must continuously adapt to stay in tune with trends and developments."
Mr. John H. Quinn, President and CEO of Promérica Bank, welcomed the enthusiastic audience to Los Angeles' first Latino-formed bank in over 35 years and participated in an open discussion as key business leaders such as LA Chamber President & CEO Gary Toebben, LAEDC President & CEO Bill Allen, and Latino Business Chamber of Greater LA Chairman Jorge Corralejo shared their perspectives on the Los Angeles economy and the growth and impact of the increasing number of Latino-owned businesses in the region. The program was an impactful exchange that provided clients and guests with valuable insights into the marketing, sales and management practices of one of the world's leading brands.
Ms. Contreras-Sweet noted Promérica believes that business and financial know how combined with access to capital can help create exponential entrepreneurial success and financial rewards for the Latino business community and the region in general. "Al Carey has imparted inspiration and practical advice to our clients and guests. Our Center of Success programs help fulfill the Bank's mission to empower its clients and community with professional and educational advancement to help them achieve the promise of America," concluded Contreras-Sweet.
The Promérica Bank Center of Success program is a series which includes presentations by distinguished speakers, educational workshops and discussion forums designed to provide access to cutting edge information and insights on business issues and challenges facing the region. Previous years sessions have included various topics in financial management and business growth, as well as in-depth discussions and professional insights shared by business and government leaders including Governor Bill Richardson, California Assembly Speaker Karen Bass, Majestic Realty Chairman & CEO Edward P. Roski Jr., Consul General of Mexico, US Majority Leader Steny Hoyer, CA Secretary of Business Transportation & Housing Dale Bonner, and Mayor Antonio Villaraigosa.
Promérica Bank (Member of the FDIC) provides a full range of financial services, including credit and deposit products, cash management, and internet banking for businesses and high net worth individuals from its headquarters office at 888 S. Figueroa Street, Los Angeles, CA 90017. Information on products and services may be obtained by calling (213) 613-5000 or visiting the Bank's website at www.PROMERICAbank.com.
Contact Information:
Contact:

Promerica Bank

Maria Contreras-Sweet
Chairwoman of the Board
213.787.2802

John H. Quinn
President/CEO
213.787.2803