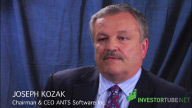 ANTS Software and IBM Announce Global OEM Agreement
NEW YORK, NY--(Marketwire - May 20, 2010) - InvestorTube, a joint venture between KCSA Strategic Communications and Crystal Research Associates, announced today that Joseph Kozak, the Chairman and CEO of ANTs Software (OTCBB: ANTS) has been interviewed on InvestorTube.net. In the interview, Mr. Kozak discusses the company's announcement with IBM (NYSE: IBM) in which the two companies unveiled their global OEM agreement and the general availability of IBM DB2 Skin for Sybase ASE Applications, an innovative database migration technology built on ANTs Compatibility Server technology.
The interview can be viewed at www.investortube.net.
About InvestorTube
InvestorTube is a joint venture between top-ranked investor relations consultancy, KCSA Strategic Communications, and leading independent research firm, Crystal Research Associates. InvestorTube offers public and private companies the ability to tell their corporate stories or announce important news via television quality produced video interviews. The videos are virally distributed through social media channels and can be viewed at www.investortube.net, the InvestorTube and ANTS Software channels at www.youtube.com, the InvestorTube page at www.facebook.com and at www.kcsa.com and www.crystalra.com. In addition, the videos are available for download on iTunes.
Contact Information:
For more information on InvestorTube:
www.investortube.net
212-896-1227