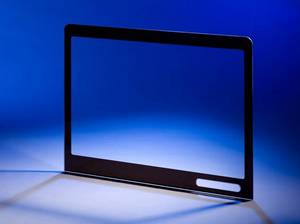 JDSU frameless display panel
MILPITAS, CA--(Marketwire - May 24, 2010) - JDSU (NASDAQ: JDSU) (TSX: JDU) today announced that it has created new frameless display panels using a combination of its low-reflection optical coating technology and custom display manufacturing processes. The result are panels with a sleek designer look for use in public venues, including kiosks at restaurants and train stations, and for airplane cockpit displays, medical displays and many other uses such as for military applications.
The frameless aspect of the display panels is created by a custom machining process that removes traditional fixture marks left on the glass surface after the coating process. A special black border effect can be integrated onto the display through a "black fritting" process that heats ink onto the glass until it turns into ceramic.
Custom slots, special edges, corners or other features can also be tailored into the display for an exact fit. For example, a designer panel for an LCD display could include a slot that allows screen controls from the display to show through -- that can be touched at the same layer as the glass display.
"Many people know JDSU for its innovative optical coatings, but they may not know that we also create highly tailored display solutions from start to finish," said Dave Soberanis, product manager for Advanced Optical Technologies at JDSU. "Our new display panels provide an ultra modern look for a public that has become increasingly sensitive to design and the frameless aspect provides more space for companies to display content."
Display manufacturers can choose from a variety of industry-leading optical coating technologies from JDSU that provide clarity and durability to the designer panels, including:
IR Blocker 70 -- A near infrared reflective coating ideal for outdoor kiosks due to its ability to reflect heat from sunlight.
PrintFree™ -- A chemically bonded coating that repels water, oil and many chemicals. It reduces finger prints, making it easy to clean.
Conductive coatings -- Coatings that provide very low reflections for projective capacitive touch screens, bringing a whole new level of clarity and brightness to touch screens.
JDSU can create designer display panels in large sizes that reach up to 55 inches for diagonal displays. Every panel also goes through extensive quality-control and testing processes.
The new designer panel from JDSU is currently on display to the electronic display industry at the SID International Symposium in Seattle, Washington, from May 23 - 28. For event information, please go to: http://www.sid.org/conf/sid2010/sid2010.html.
About JDSU
JDSU (NASDAQ: JDSU) (TSX: JDU) enables broadband and optical innovation in the communications, commercial and consumer markets. JDSU is the leading provider of communications test and measurement solutions and optical products for telecommunications service providers, cable operators, and network equipment manufacturers. JDSU is also a leading provider of innovative optical solutions for medical/environmental instrumentation, semiconductor processing, display, brand authentication, aerospace and defense, and decorative applications. More information is available at www.jdsu.com.
Contact Information:
Contact Information
JDSU
Investors:
Michelle Levine
408-546-4421