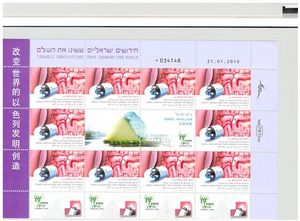 PillCam stamp issued by the Israel Postal Company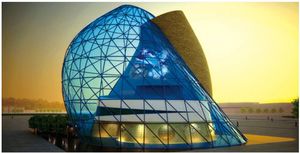 Israel Pavilion at Expo 2010
YOQNEAM, ISRAEL--(Marketwire - May 25, 2010) - Given Imaging (NASDAQ: GIVN) announced today that the Israeli government selected it as one of only three companies, and the only medical company, to be featured at the Israel Pavilion at Expo 2010 Shanghai China and represent "Israeli innovations that changed the world." To commemorate the occasion, the Israeli Postal Service also issued a new stamp showing the PillCam video capsule. Additionally, the American-Israel Chamber of Commerce (Southeast Region) awarded Given Imaging its Eagle Star "Company of the Year" Award.
The Expo 2010 opened in Shanghai, China, on May 1, 2010, and will remain open for six months. The Israeli Pavilion is designed with a shell-like shape and features elements that represent the ancient and traditional aspects of Israeli culture alongside the modern and innovative facets. Given Imaging was chosen by the Israeli government as one of three companies to showcase Israeli innovation and is featured very prominently in the pavilion. To view images of the Israeli Pavilion, please click this link: http://en.expo2010.cn/c/en_gj_tpl_32.htm
In conjunction with the Expo, the Israel Postal Company issued a new series of three stamps featuring the technology of each of the three companies highlighted in the Israel Pavilion. The "Pill Camera" stamp shows the capsule against the background of a small intestine, the area of human anatomy in which the PillCam technology was first and most widely used. A special pamphlet with a brief description of each company accompanied the stamps on the day of issuance.
"On behalf of Given Imaging's 700 employees from around the world, we thank the Israeli government for recognizing our contribution. We are proud to have been honored in this very important way," said Homi Shamir, president and chief executive officer, Given Imaging. "Israel is a world leader in developing and producing advanced technologies, many of them in medical technology. We are one in a long line of Israeli companies that have pioneered breakthroughs that have changed the practice of medicine and impacted the lives of patients around the world. Over 70 million people are expected to attend the Expo, and we believe that our PillCam technology will leave a strong impression on all who view it."
The company was also selected as the winner of The Eagle Star "Company of the Year" Award by the American-Israel Chamber of Commerce, Southeast Region, based in Atlanta, Georgia, United States. The award was selected based upon strong leadership demonstrated by company executives and a well executed strategic plan, innovative, creative and entrepreneurial qualities, jobs creation and customer recommendations. More information about the award can be found by clicking this link: http://www.eaglestargala.com/2010/judging.html
"Given Imaging is most deserving of this award that recognizes the top Israeli company with headquarters in the Southeastern United States," said Tom Glaser, president, American-Israel Chamber of Commerce, SE Region. "We are very proud of their significant accomplishments, their close relationship with our organization, and appreciation for the assistance we have provided over the years to support them in this country."
About Expo 2010
Expo 2010 Shanghai China focuses on the prospect of future urban life, innovation and interaction and cross-cultural dialogues, seeking to contribute to human-centered development, scientific and technological innovation, cultural diversity and cooperation for a better future. The Expo runs for 184 days and anticipates attracting approximately 200 nations and international organizations to take part in the exhibition and 70 million visitors from China and abroad, aiming for the widest possible participation in the history of the World Expositions.1
About American-Israel Chamber of Commerce
The American-Israel Chamber of Commerce, Southeast Region, was established in 1992 to boost the Israeli and Southeastern economies by helping their companies develop business relationships with each other and explore new market opportunities. With over 450 members today, AICC has earned the reputation as one of the most successful and effective bi-national business organizations in the United States. AICC conducts educational programs, networking events, and business exchanges designed to stimulate interest in American companies to do business with Israel, offer helpful "how to" information, facilitate business missions to Israel and provide opportunities for business to be explored between American and Israeli companies. The American-Israel Chamber of Commerce, Southeast Region is a founding member of the Association of America-Israel Chambers of Commerce & Industry (AAICCI), a national network of similar organizations throughout the US.
About Given Imaging Ltd.
Since 2001, Given Imaging has advanced gastrointestinal visualization by developing innovative, patient-friendly tools based on its PillCam® Platform. PillCam® capsule endoscopy uses cutting-edge, wireless technology and advanced software to provide physicians with natural images of the small intestine via PillCam® SB, the esophagus through PillCam® ESO and the colon with PillCam® COLON [PillCam COLON is not cleared for use in the USA]. The PillCam® capsules are miniature video cameras that patients ingest. Given Imaging's other capsule products include Agile™ patency capsule, to verify intestinal patency, and Bravo®, the only wireless, catheter-free, 48-hour pH test commercially available for pH testing to assess gastroesophageal reflux disease (GERD). In April 2010 Given Imaging acquired Sierra Scientific Instruments, the leading provider of specialty GI diagnostic solutions and pioneer of high-resolution manometry for assessing gastrointestinal motility. Sierra Scientific is now a wholly-owned subsidiary of Given Imaging. Given Imaging's headquarters, manufacturing and R&D facilities are located in Yoqneam, Israel, with operating subsidiaries in the United States, Germany, France, Japan, Australia and Singapore. For more information, please visit www.givenimaging.com.
This press release contains forward-looking statements within the meaning of the "safe harbor" provisions of the U.S. Private Securities Litigation Reform Act of 1995. These forward-looking statements include, but are not limited to, projections about our business and our future revenues, expenses and profitability. Forward-looking statements may be, but are not necessarily, identified by the use of forward-looking terminology such as "may," "anticipates," "estimates," "expects," "intends," "plans," "believes," and words and terms of similar substance. Forward-looking statements involve known and unknown risks, uncertainties and other factors which may cause the actual events, results, performance, circumstances or achievements of the Company to be materially different from any future events, results, performance, circumstances or achievements expressed or implied by such forward-looking statements. Factors that could cause actual events, results, performance, circumstances or achievements to differ from such forward-looking statements include, but are not limited to, the following: (1) our ability to develop and bring to market new products, (2) our ability to successfully complete any necessary or required clinical studies with our products, (3) our ability to receive regulatory clearance or approval to market our products or changes in regulatory environment, (4) our success in implementing our sales, marketing and manufacturing plans, (5) the level of adoption of our products by medical practitioners, (6) the emergence of other products that may make our products obsolete, (7) lack of an appropriate bowel preparation materials to be used with our PillCam COLON capsule, (8) protection and validity of patents and other intellectual property rights, (9) the impact of currency exchange rates, (10) the effect of competition by other companies, (11) the outcome of significant litigation, (12) our ability to obtain reimbursement for our product from government and commercial payors, (13) quarterly variations in operating results, (14) the possibility of armed conflict or civil or military unrest in Israel, (15) the impact of global economic conditions, (16) our ability to successfully integrate acquired businesses, (17) changes and reforms in applicable healthcare laws and regulations and (18) other risks and factors disclosed in our filings with the U.S. Securities and Exchange Commission, including, but not limited to, risks and factors identified under such headings as "Risk Factors," "Cautionary Language Regarding Forward-Looking Statements" and "Operating Results and Financial Review and Prospects" in the Company's Annual Report on Form 20-F for the year ended December 31, 2009. You are cautioned not to place undue reliance on these forward-looking statements, which speak only as of the date of this press release. Except for the Company's ongoing obligations to disclose material information under the applicable securities laws, it undertakes no obligation to release publicly any revisions to any forward-looking statements, to report events or to report the occurrence of unanticipated events.
1 http://en.expo2010.cn/a/20081116/000004.htm
Contact Information:
For further information contact:

Fern Lazar / David Carey
Lazar Partners Ltd.
Phone: 212-867-1768