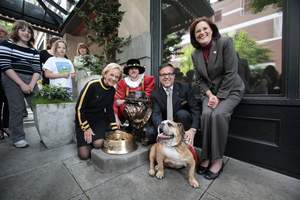 Zelda owner Carol Gardner with: the Heathman's Beefeater; Stephen Galvan, director of sales and marketing for The Heathman Hotel; Dianne McGill, executive director of Banfield Charitable Trust; and Zelda.
PORTLAND, OR--(Marketwire - May 27, 2010) - The Heathman Hotel has unveiled a bronze sculpture honoring Zelda, the English bulldog star of Zelda Wisdom. The sculpture, generously donated by Banfield, The Pet Hospital®, celebrates the hotel's long-standing pet-friendly tradition.
"The Heathman Hotel has developed valuable relationships with each of our guests who've brought their beloved pets through our doors," said Stephen Galvan, director of sales and marketing for the Heathman Hotel. "We're excited to unveil this statue in commemoration of these friendships, and we look forward to expanding our network of canine companions." The Heathman Hotel was also recently recognized by CitySearch as a premier pet-friendly hotel in Portland.
Created by renowned bronze artist Jim Gion, the statue was funded by Banfield, The Pet Hospital. The sculpture is fashioned in the likeness of Zelda wearing the Heathman Hotel's celebrated beefeater costume and lives outside the hotel's entrance. Additionally, the replica features a bronze version of Zelda's dog bowl, which is constantly filled with fresh water for visiting pooches to enjoy.
Zelda, the world famous English bulldog, was born in Portland Oregon in 1996. Zelda's books, greeting cards, and calendars have entertained people around the world who have fallen in love with her wit and wisdom.
*Additional Photos Available
About The Heathman Hotel
Built in 1927 and located in the heart of Portland, Ore.'s cultural district, this 150-room luxury hotel maintains strong partnerships with local arts and culture organizations and is Portland's premier arts hotel. An independently owned luxury boutique property, the Heathman Hotel is a member of the Carino Hotels and Resports Worldwide and Historic Hotels of America. The Heathman has received the prestigious Four Diamond distinction from AAA for 25 consecutive years. In 2010, the hotel was recognized by Entrepreneur as a Top 15 Business Hotel in America. Additionally, the Heathman was recognized for overall excellence on Condé Nast Traveler's 2005 Gold List and was featured in the 2005, 2006, 2007 and 2009 editions of Travel+Leisure's World's Best Hotels list. The hotel also received Wine Spectator's Best Of -- Award of Excellence in 2008. The Heathman Hotel and its sister property, Heathman Kirkland, encompass the art of hospitality in the Pacific Northwest. For reservations, visit www.heathmanportland.com.
Contact Information:
Media Contact:
Katie Stringer
503.546.7877
katie@lanepr.com