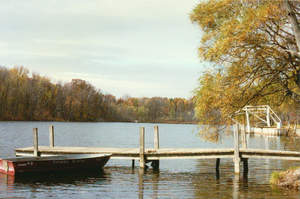 Taylor's Beach Campground is right on Cook Lake, allowing for fishing, paddleboat and fishing boat rentals, swimming and other water activities.
HOWELL, MI--(Marketwire - May 27, 2010) - Camping remains an affordable way for families to vacation, with modern campgrounds proving to be popular destination spots for families on a budget. The trend in camping is becoming a campground with amenities and activities for a comfortable, fun outdoor experience. Like resorts, the modern campground provides everything you could possibly imagine -- sandy beaches, paddle and fishing boat rentals, game rooms, playgrounds, basketball and volleyball courts, planned activities, shuffleboard, themed weekends and more.
"Camping has become more than pitching a tent in an isolated wooded area," said Alan Taylor, owner of Taylor's Beach Campground. "You get modern amenities, plus activities to keep kids from getting bored, for a fraction of the cost of a hotel. Our camping starts as low as $24 a night -- you can't even stay at the simplest hotel for that price."
Recreation vehicles (RVs) are making tent camping a way of the past. Many modern campgrounds accommodate families who don't own an RV with an RV to camp in on site.
Michigan's unpredictable weather can often ruin camping plans. Even if it rains, there are still activities to keep kids busy at a modern campground. Unexpected rainfall shifts outdoor camping to an indoor day of arcade games, crafts and cards with fellow campers, friends and family.
"With potlucks, community fire pits, themed parties and planned activities, modern camping is much more social than traditional camping," said Taylor. "Overall, there's more entertainment for families to enjoy."
Taylor's Beach Campground offers affordable family camping with seasonal, overnight, weekly and monthly campsite rentals; planned activities and amenities to make your stay comfortable. Consumers can visit www.taylorsbeachcampground.com to download coupons for huge savings at Taylors Beach Campground, making an already affordable vacation even less expensive. Taylor's Beach Campground, 6197 N. Burkhart Road, Howell, Mich. 48855; 517.546.2679.
Contact Information:
Contact:
Rachael Biermann

Agency: All Seasons Communications
Phone: (586) 752-6381