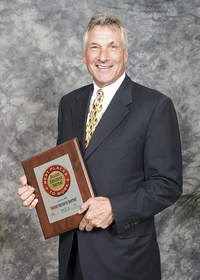 Longfellow Benefits principal and cofounder Craig Cerretani with Best Places to Work 2010 award
BOSTON, MA--(Marketwire - June 14, 2010) - Longfellow Benefits was honored as one of the Boston area's best employers in the small-employer category by Boston Business Journal's Best Places to Work 2010 at an awards ceremony held at Boston's Seaport Hotel, June 11.
The Boston-based employee benefits consultant and broker is just one of three employers in all categories that have won the award five years straight.
Employees of nominated companies completed a detailed survey covering work environment, work-life balance, job satisfaction, advancement opportunities, management, compensation and benefits. An overall score was calculated for each company.
Serving organizations in New England and nationally, Longfellow Benefits provides employee benefits, retirement plans and executive benefits. The firm's technical depth, breadth of expertise, infrastructure, nimbleness, and service delivery help employers optimize each benefits dollar.
For more information, visit www.longfellowbenefits.com or call 617-351-6000.
Contact Information:
Contact:
Henry Stimpson
Stimpson Communications
508-647-0705
HStimpson@StimpsonCommunications.com