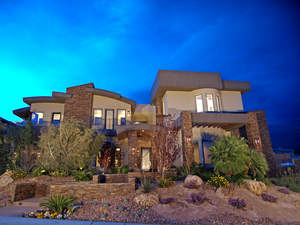 Green Giant: The Jenson Group of RE/MAX CENTRAL (www.TheJensonGroup.com) Lists America's Largest & Most Luxe Certified Green Custom Home Now for Sale in Las Vegas
LAS VEGAS, NV--(Marketwire - June 15, 2010) - The Jenson Group of RE/MAX CENTRAL (www.TheJensonGroup.com), a leading Las Vegas luxury real estate agency specializing in high-end residential property, today announced its extraordinary new listing at 68 Wildwing in The Ridges of Summerlin, Las Vegas -- a magnificent 9,617 square foot newly custom-built estate home that not only boasts a litany of premium architectural, design and décor features, but also uniquely holds "Diamond Certified Green" home classification by the esteemed Environments For Living® program, among other superior energy efficiency-based rakings. With this Diamond certification, the buyer of this mammoth luxury home will receive a written guarantee that total utility bills for heating and cooling will not exceed $366 per month total for a full 3-year period.
This brand new three-story, 5 bedroom, 7 bathroom custom residence, built with painstaking attention to detail over a 2-year period by Las Vegas-based Tyler Construction, also boasts an Energy Star rating with an astoundingly low HERS Index score of 63 (22 points better than that required for Energy Star), Department of Energy "Builder's Challenge" rating, and 2006 IECC Code Compliance (50% better than standard). Factors contributing to this home's incredible energy efficiency include strategic insulation at the roof line vs. the ceiling line, specialized HVAC equipment and fixtures, premium water technology and CFL lighting. Virtually air-tight, this home has a controlled environment with individual sensors and thermostats in every room, including the attic, which provide personal comfort control in each. A fresh air ventilation system is also installed to ensure the best indoor air quality possible.
"From an energy efficiency standpoint, this is one of the best built luxury custom residences of this size and scale in the United States," notes John Curtis, owner of Tyler Construction. "We're extremely excited to now have this incredible home listed for sale with The Jenson Group -- a results-driven agency known for representing distinctive properties and achieving client goals in short order."
This property in The Ridges of Summerlin -- one of the most desirable, guard-gated, golf-course communities in the Desert Southwest -- is as breathtaking and thoughtfully appointed as it is energy efficient. Every space has been carefully designed, from the easy flow of common living spaces that open al fresco to the patio and infinity edge pool, to the master retreat with breathtaking balcony views of the fabulous Las Vegas Strip. The master closet has a convenient laundry closet and a safe room. The home features two wine rooms, unique designer ceilings throughout, an elevator providing easy access to all three levels and sheltered, private parking for up to nine vehicles.
View a virtual home tour for this energy efficient custom estate home here:
http://www.ehometours.com/showYTTours2.php?movie=8ZUk3R3sLfE
View the full MLS listing for this energy efficient custom estate home here: http://las.mlxchange.com/Pub/EmailView.asp?r=1129992487&s=LAS&t=LAS
View multiple photos of this energy efficient custom estate home here:
http://www.flickr.com/photos/robjenson/sets/72157623631723153/
View a short video of the builder discussing this energy efficient custom estate home here:
http://www.youtube.com/watch?v=6gVpFgv9yjs
About The Jenson Group of RE/MAX CENTRAL
With a team that has served the Las Vegas community for nearly a decade, The Jenson Group is a premier luxury real estate agency specializing in the sale and purchase of upscale residential property, including estate homes, high rise condominiums, and land for use or investment. A RE/MAX "Hall of Fame" award recipient consistently ranked in the top 1% of sales throughout the Las Vegas Valley, The Jenson Group offers distinctive representation to Las Vegas' most discriminating clients who demand a high caliber of service. The company is staffed by an expert team of real estate professionals with unsurpassed knowledge of the luxury Las Vegas real estate marketplace. The company may be reached via telephone at 702-255-8252 or through its Web site located at www.TheJensonGroup.com.
Contact Information:
Contacts:

Media:
Merilee Kern, President
Kern Communications
858-577-0206