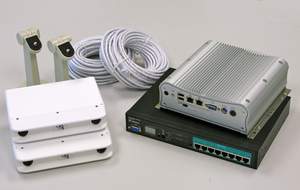 The PersonTrack QuickStart Kit includes two TYZX G3 EVS cameras, two camera mounts, a fan-less Linux server running PersonTrack software, cables, and an 8-port Gigabit PoE network switch.
MENLO PARK, CA--(Marketwire - June 15, 2010) - TYZX®, the 3D vision technology company, today announced the availability of the TYZX G3 PersonTrack QuickStart Kit, a complete platform for solutions that track people and objects in real time. The QuickStart Kit enables developers and integrators to quickly develop and deploy precise, high-performance person-tracking applications for security, industrial automation, retail management, and interactive entertainment.
Users can deploy a PersonTrack QuickStart Kit and have it operational in less than an hour. TYZX PersonTrack automatically discovers G3 EVS cameras on the network, registers them to a common 3D coordinate system, and builds a single, integrated view of the entire physical space covered collectively by the cameras. This automatic registration eliminates hours of manual setup. Patented TYZX technology enables TYZX G3 EVS systems to accurately determine the distance to, as well as the size of, people and objects, even in challenging lighting conditions. Once deployed, the TYZX PersonTrack solution reliably tracks people continuously, even while lighting conditions vary and spaces become crowded. TYZX PersonTrack systems deployed in the field have run reliably for years without needing to be restarted or recalibrated.
The new TYZX G3 PersonTrack QuickStart Kit features two TYZX DeepSea™ G3 Embedded Vision Systems (EVS), Ethernet cables, and a Gigabit PoE network switch that delivers power and communication to up to seven TYZX G3 EVS systems. The kit also includes a ruggedized Linux server pre-loaded with TYZX PersonTrack software, an administrative interface, and the PersonTrack API which provides other applications access to tracking results.
TYZX introduced the TYZX DeepSea G3 EVS last fall. About the size of a hardback book, each TYZX G3 EVS tracks people at 30 fps moving over areas greater than 200 square feet.
Because G3 EVS systems are small and consume little power, they can be installed in ceiling spaces and corners unobtrusively. Users can add more G3 EVS systems to the QuickStart configuration, scaling the PersonTrack solution to cover very large areas, such as train stations, airport terminals, and department stores.
Design Firm Electroland Using TYZX G3 PersonTrack Solution
One TYZX customer already using the TYZX G3 PersonTrack system is Electroland, a Los Angeles-based design firm that creates objects, interactive experiences, and large-scale public art projects. Each Electroland project is site-specific and may employ a broad range of media, including light, sound, images, motion, architecture, and interactivity. Electroland uses TYZX PersonTrack to create environments that respond to the motion and location of pedestrians.
"For years, we've used TYZX G2 PersonTrack systems, which have produced great results in challenging environments," says Damon Seeley, partner at Electroland. "Now we're looking forward to taking advantage of faster speed and smaller packaging of the G3 solution."
"We have installations in airport walkways, museum lobbies, and other spaces where lighting conditions and crowd sizes can vary dramatically," Seeley added. "We need person-tracking technology that's precise, fast, and extremely reliable. To fit into environments that were not designed with our projects in mind, we need camera systems that are small and draw little power. The TYZX G3 PersonTrack solution meets all our requirements and is simply the best we've seen."
Attendees of the 2010 IEEE Computer Vision and Pattern Recognition Conference in San Francisco, CA will be able to see the TYZX G3 EVS in action at the conference exhibition area.
For more information about the TYZX G3 EVS, please visit www.tyzx.com.
About TYZX, Inc.
TYZX (www.TYZX.com) is a 3D vision company that provides a platform of hardware, software and services for building products that see and interact with the world in three dimensions. TYZX delivers high volume, cost-effective 3D vision solutions to industry leaders in the automotive, consumer electronics, robotics and security markets. TYZX, a privately held company, is backed by investments from Microsoft co-founder Paul Allen and corporate partners.
TYZX is a registered trademark and DeepSea and ProjectionSpace are trademarks of TYZX, Inc. All other brands and products referenced herein are acknowledged trademarks or registered trademarks of their respective holders.
Contact Information:
For media inquiries, please contact:

John Bennett (for TYZX)

+1-408-282-4510