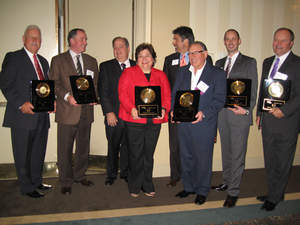 Celebrating the 2010 Greater Akron Chamber (GAC) Excellence in Business Award: Left to Right: Ron Marhofer, Ron Marhofer Auto Family; Jonathon Grimm, Knotice; John Shulan, GAC Small Business Council Vice Chair; Elizabeth Bartz, State and Federal Communications, Inc; Daniel Colantone, President & CEO of the GAC; Tom Luck, Lucky Shoes; Jay Mellon, AtNetPlus; and Bill Koeblitz, MobilityWorks.
STOW, OH--(Marketwire - June 16, 2010) - AtNetPlus, Inc. was recently honored for their 'Excellence in Business.' Over 200 people attended the awards ceremony held by the Greater Akron Chamber of Commerce at the Sheraton Suites in Cuyahoga Falls.
Since 1982, the prestigious Excellence in Business Award has been given to deserving members of the Greater Akron Chamber of Commerce (GAC). The companies, which are nominated by the GAC membership, are put through a rigorous analysis by a panel of ten judges. The recipients were chosen by the panel based on their outstanding performance, growth, longevity, innovation, and community leadership. The 2010 winners were: AtNetPlus, Inc., Knotice, Lucky Shoes, Inc., MobilityWorks, Ron Marhoffer Auto Family, and State and Federal Communications, Inc.
Master of Ceremonies and Vice Chair of the GAC Small Business Council, John Shulan noted, "The 2010 Excellence in Business Awards went to very deserving companies. This year's honorees are a diverse group and represent a broad range of achievements. For example, we honored companies that were founded as early as 1919 and as recently as 2003. They employ from 20 to more than 300 people in the region and they serve a wide range of customers across a variety of industries. However, their commitment to exceptional customer service and dedication to strengthening the northeast Ohio economy is what differentiates them from their competition."
AtNetPlus Partner Jay Mellon stated, "It is an honor to be recognized along with businesses that have been well known in the area for decades. This group of honorees has distinguished themselves through innovation and their ability to adapt to the changing marketplace. We are delighted to be a part of this exceptional list of companies."
"Although we are proud of our achievements, we know that we still have a long way to go to live up to the recognition we have been fortunate enough to receive in conjunction with this award. We thank everyone that has had a part in our success -- our clients, our staff, and the northeast Ohio business community," concluded Mellon.
Greater Akron Chamber President and CEO Dan Colantone remarked, "AtNetPlus and the other recipients exemplify the excellence pursued by every honoree in the long history of this award. We admire their tenacity and their desire to exceed expectations despite the setbacks all companies face. The chamber welcomes the contributions they make to our organization and we look forward to working with them in the coming years as we continue to strengthen the business climate in the region."
About AtNetPlus
AtNetPlus specializes in working with small and mid-sized organizations that are technology dependent. We offer solutions that are typically not available to smaller enterprises. Access to our services improves productivity and helps smaller companies stay competitive. AtNetPlus -- we keep you connected, secure, and working.
About the Greater Akron Chamber of Commerce
The Greater Akron Chamber is an economic development organization serving the counties of Medina, Portage and Summit in Northeast Ohio. Our membership includes a diverse array of businesses, ranging from global manufacturers and educational institutions to local machine shops and non-profit organizations. We are committed to building a strong, innovative community.
Contact Information:
Editorial Contact:
Ellen Kurr
AtNetPlus, Inc.
Phone: 330-945-5685
Fax: 330-945-5684

http://www.AtNetPlus.com