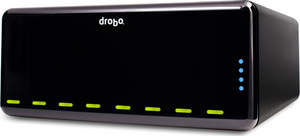 DroboElite -- The World's First iSCSI SAN that Manages Itself
SANTA CLARA, CA--(Marketwire - June 17, 2010) - Data Robotics, Inc., the company that is changing the way the world stores and protects digital content, today announced that Cobra Creative, a visionary agency specializing in internet marketing strategy and design, motion graphics, and websites for companies such as NFL Networks, Verizon, and Clif Bar, among others, has deployed Data Robotics' multihost iSCSI SAN solution, DroboElite, to store and protect the company's rapidly growing multimedia data.
"I'm an art director, not a network storage expert and I didn't want to have to set up and manage a complicated RAID configuration or deal with lost data due to a failed drive," said Jason Csizmadi, senior art director at Cobra Creative. "The best thing about the DroboElite is the simplicity of it. It's basically plug and play. I don't have to worry about any of the technical issues that those other solutions have."
San Francisco, CA-based Cobra Creative deployed DroboElite in 2009 after exceeding the capacity of their two Drobo Second Generation arrays, which the company first purchased in 2007. With two iSCSI ports for lightning-fast throughput and the ability to accommodate eight drives -- as much as 16 terabytes -- DroboElite delivered the scalability and performance the firm needed. With DroboElite, Cobra Creative's mission-critical data is always safe and protected, freeing the company to create compelling and innovative work for their clients rather than using resources to manage data storage architecture.
"Businesses like Cobra Creative need data storage solutions that are both powerful and simple to manage," said Brad Meyer, senior product marketing manager for the business storage line at Data Robotics. "DroboElite is a natural fit because it requires very little setup, even less ongoing management, and it ensures that important data is always safe, protected and accessible."
About Data Robotics
Data Robotics, Inc., the company that delivers the best storage experience ever, develops automated storage products designed to ensure data is always protected, accessible and simple to manage. The award-winning Drobo storage arrays are the first to provide the protection of traditional RAID without the complexity. The proven BeyondRAID technology frees users from making the difficult and confining choice of "Which RAID level to deploy?" by providing an unprecedented combination of advanced features and automation, including single- and dual-drive redundancy, instant expansion, self-monitoring, data awareness, self-healing, and an easy-to-understand visual status and alert panel. For more information, visit Data Robotics at www.datarobotics.com.
Data Robotics, Drobo, DroboElite, and BeyondRAID are trademarks of Data Robotics, Inc., that may be registered in some jurisdictions. All other trademarks used are owned by their respective owners.
Contact Information:
Media Contact:
Elizabeth Zaborowska
Bhava Communications

510-219-8127