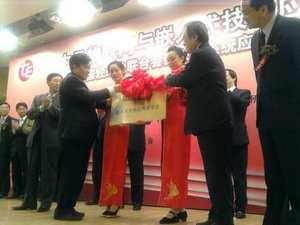 T-Engine Forum - China ribbon cutting ceremony.
TOKYO--(Marketwire - June 22, 2010) - The T-Engine Forum, headquartered in Tokyo, has announced that the government of The People's Republic of China has established a Beijing office for promoting TRON, T-Engine, and associated ubiquitous computing technology. The opening ceremony of the T-Engine Forum - China office was held in Beijing on April 27, 2010. This Chinese technology initiative was the result of cooperation of The Institute of Computing Technology, Chinese Academy of Sciences (ICT of CAS), under the leadership of Director Li Guojie, and The China Household Electric Appliance Research Institute (CHEARI) under the leadership of President Bing Xuwei and the T-Engine Forum, Chaired by Professor Ken Sakamura of the University of Tokyo. This collaboration resulted in the establishment of the Embedded Systems Application Committee in the China National Light Industry Council, which is informally referred to as the "T-Engine Forum - China." Mr. Han Zuoliang, the former director of CHEARI will become the Chair of T-Engine Forum - China. He is also a delegate to the All People's Congress of China.
In order to promote the research and development of ubiquitous networking (called the "Internet of Things" in Europe), intelligent control, sensor network and other important technologies for embedded systems development, The T-Engine Forum - China hosted this opening ceremony in Beijing. The ceremony included a joint China-Japan seminar on ubiquitous networking and embedded systems applications highlighting technology from T-Engine Forum (Japan), the ICT of CAS, and CHEARI. The seminar and ceremony were managed by the ICT of CAS and CHEARI.
The organizers invited government officials from China and Japan, as well as industry to participate in the opening ceremony. This ceremony provided an information exchange among the private companies based in both China and Japan, and it is expected that new business and collaboration opportunities will occur to promote the growth of embedded systems technology in both regions.
International T-Engine Forum Activity
On June 1, 2010, Dr. Ken Sakamura, Chair of the T-Engine Forum, presented "Japan's Perspective on IoT and Ubiquitous Computing" at The International Experience session during the 2d Annual Internet of Things - Europe 2010 conference in Brussels.
http://www.eu-ems.com/agenda.asp?event_id=55&page_id=347
On June 8, 2010, the YRP Ubiquitous Networking Laboratory, a member of T-Engine Forum, participated in the initial CASAGRAS-2 meeting, in the city of Stiges, near Barcelona. CASAGRAS-2 is an EU project to study the international standards and activities in RFID. YRP Ubiquitous Networking Laboratory joined the project to promote uID architecture and applications to the members of the EU community as well as other regions of the world. YRP is an original CASAGRAS project member.
http://www.rfidglobal.eu/
Dr. Ken Sakamura, Chair of the T-Engine Forum, will be giving a presentation on technology for smart living at home and in a village at the ICOST2010 in Seoul on June 22-24, 2010.
http://www.icost2010.org/?id=110
Again, Dr. Ken Sakamura, Chair of the T-Engine Forum, will be presenting the technological advances of the TRON House at IE10 conference in Kuala Lumpur on July 19-21, 2010.
http://intelligentenvironments.org/conferences/ie10/invitedspeakers
YRP Ubiquitous Networking Laboratory, a member of T-Engine Forum, will be exhibiting its latest technology developed together with TEF partners at the ICT2010 Conference in Brussels, in the international pavilion, on September 27-29, 2010.
http://ec.europa.eu/information_society/events/ict/2010/conference/index_en.htm
Also during ICT2010, there will be a networking session on September 28, 2010 that will discuss CASAGRAS-2. TEF members will present uID architecture and other technologies.

YRP Offers ucode Issue System and User Interface in English
The uID center operated by T-Engine Forum promotes uID (ubiquitous identification) architecture, which is an application framework for ubiquitous computing, based on attaching unique ID number called ucode to objects and locations. YRP Ubiquitous Networking Laboratory, a member of T-Engine Forum, is offering a simple system to have ucode issued for personal experimentation. This system is called the "ucoder: ucode Universal Information Service." This system provides a general-purpose information service such as issuing ucode and associating it with user-supplied information. Details for obtaining ucode are at:
http://www.ubin.jp/ucoder/
About Ubiquitous ID Technology
The Tokyo Ubiquitous Technology Project takes full advantage of ubiquitous ID (uID) technology, with which anyone can access location information in the local area. A brief movie on uID technology can be viewed at:
http://www.youtube.com/watch?v=mo8s2S78EOc
About The uID (Ubiquitous ID) Center
Established and managed under TEF, this non-profit organization (NPO) was set up within the T-Engine Forum to establish and disseminate the core technology for automatically identifying physical objects and locations and to work toward the ultimate objective of realizing a ubiquitous computing environment. Its website is at:
http://www.uidcenter.org/
About The T-Engine Forum
The T-Engine Forum is a non-profit organization (NPO) established to publish standards, conduct research and development, and promote the T-Engine Architecture initiated by Professor Ken Sakamura of the University of Tokyo. Dr. Sakamura proposed the T-Engine Architecture as a development platform for real-time embedded systems, and the TEF to conduct liaison and coordination among organizations involved with the technology. For more information on the TEF and TEF membership, please go to:
http://www.t-engine.org/english/admission.html
T-Engine® is a registered trademark of the T-Engine Forum.
Contact Information:
For more information please contact:
T-Engine Forum
Jim Farrell
Director, USA Liaison Office
+1-512-891-0316
FAX: +1-512-275-6568
Email: