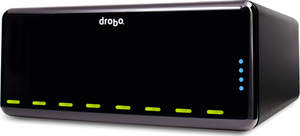 DroboElite - The World's First iSCSI SAN that Manages Itself
SANTA CLARA, CA--(Marketwire - June 22, 2010) - Data Robotics, Inc., the company that is changing the way the world stores and protects digital content, today announced that the First Baptist Church, a rapidly growing religious organization with a large congregation of over 1200 members, has deployed Data Robotics' multihost iSCSI SAN solution, DroboElite, to store and protect the church's expanding multimedia projects.
"You just plug in the DroboElite and it works. It's been a great tool for me and a big stress relief knowing that our data is safe," said Matthew Irvine, Director of Communications and Technology for First Baptist Church. "It's hard to make storage glamorous but the DroboElite really is. We weren't expecting that."
With a very prolific marketing and video production team, video had become the primary data being created and stored. Due to both the amount of files and the large file sizes, lack of storage space was an issue. Moreover, after eleven area churches had been the target of arson, the organization realized that it needed a better disaster recovery plan in addition to a separate place to back up data on their virtual servers. Belton, TX-based First Baptist Church deployed the DroboElite to support the organization's virtual servers and protect its mission critical data. Built on Data Robotics' award winning BeyondRAID technology with dual iSCSI ports, multi-host connectivity, and certified interoperability with VMware, DroboElite was able to provide the protection, accessibility, and expandability needed to meet the church's current and future data storage requirements.
"DroboElite is an excellent storage solution for non-profit organizations like the First Baptist Church because of its ease of use and affordability compared to other solutions," said Brad Meyer, Senior Product Marketing Manager for Business Storage Product Line, Data Robotics. "As the most powerful and flexible Drobo platform to date, DroboElite was able to fulfill the storage needs of the First Baptist church, providing the organization with the most comprehensive, expandable, and secure storage for its mission critical data while meeting its needs for a self-managing solution."
About Data Robotics
Data Robotics, Inc., the company that delivers the best storage experience ever, develops automated storage products designed to ensure data is always protected, accessible and simple to manage. The award-winning Drobo storage arrays are the first to provide the protection of traditional RAID without the complexity. The proven BeyondRAID technology frees users from making the difficult and confining choice of "Which RAID level to deploy?" by providing an unprecedented combination of advanced features and automation, including single- and dual-drive redundancy, instant expansion, self-monitoring, data awareness, self-healing, and an easy-to-understand visual status and alert panel. For more information, visit Data Robotics at www.datarobotics.com.
Data Robotics, Drobo, DroboElite, and BeyondRAID are trademarks of Data Robotics, Inc., that may be registered in some jurisdictions. All other trademarks used are owned by their respective owners.
Contact Information:
Media Contact:
Elizabeth Zaborowska
Bhava Communications

510-219-8127