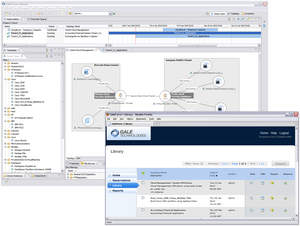 GaleForce Control Center provides resource management with end-to-end provisioning and workflow automation for a wide range of physical and virtual resources (application, computing, networking, and storage tiers).

GaleForce Web Portal enables self-service and on-demand fulfillment of infrastructure service requests for private and public cloud resources, based on templates published by system administrator.
SANTA CLARA, CA--(Marketwire - June 22, 2010) - Gale Technologies, a leading provider of software solutions that simplify the provisioning and workflow orchestration of Infrastructure-as-a-Service (IaaS) offerings, today announced the company has formed relationships with NetApp and Cisco to build an ecosystem foundation for delivering Infrastructure-as-a-Service and private, public, or hybrid cloud offerings.
"Technologies from these leading companies are transforming the conventional data center by breaking down the management silos and delivering more cost-effective, on-demand services," said Nariman Teymourian, Chairman and CEO of Gale Technologies. "Our GaleForce solution enables users to easily automate and provision virtual and physical resources from a single platform -- within the lab, data center, or in the cloud -- whenever needed. With GaleForce, users can transform IT silos into a highly elastic, self-service infrastructure model -- delivering services in less time and with fewer resources, saving our customers significant time and money."
These relationships enhance the power of GaleForce, an advanced, end-to-end resource automation and orchestration platform that is proven to help enterprises, service providers, network equipment manufacturers (NEMs), and software vendors do more with fewer physical, virtual and human resources -- resulting in reduced expenses associated with IT Provisioning.
NetApp and Cisco are proving that a virtualized, dynamic data center represents one of the most effective foundations for cloud computing and the realization of infrastructure-as-a-service. The GaleForce ecosystem brings together these leading data center and cloud computing vendors to provide a seamless transition to a self-service model for provisioning both data center and cloud resources. Gale Technologies is an Advantage Alliance Partner with NetApp, and a Solution Developer in the Cisco Developer Network Program. Gale is also a solution provider to NetApp and Cisco, both of whom use GaleForce-based solutions in their own dynamic labs and data centers.
"The concept of the dynamic data center provides the enabling cloud computing foundation for enterprises and service providers to deliver infrastructure-as-a-service and meet rapidly changing business requirements," said Niall Doherty, Director, Customer POC Labs and Lab on Demand at NetApp. "Our partnership with Gale leverages its unique GaleForce platform to address the need for a more efficient, flexible, and agile approach to provisioning dynamic data center and cloud-based resources with an on-demand, self-service model."
GaleForce - Efficient Automation Starts Here
GaleForce completely transforms how organizations approach data center automation, resource management and provisioning by enabling the adoption of a self-service model to reduce expenses associated with IT provisioning. Using a secure and custom-brandable Web portal, employees, partners or customers can request and access physical and virtual resources 24x7 from anywhere in the world. Through one comprehensive and extensible platform, GaleForce enables organizations to effortlessly locate, schedule, connect, provision, and access servers, virtual machines, networking, storage, and software repositories in a comprehensive and vendor-neutral way -- even integrating public cloud resources, such as Amazon Web Services and Rackspace. Additionally, GaleForce scales easily to accommodate multi-site and global operations, while its resource consolidation and intelligent power management capabilities significantly reduce carbon footprint.
About Gale Technologies
Headquartered in Santa Clara, Calif., Gale Technologies provides advanced software solutions to automate, orchestrate, and optimize resources -- transforming the process of Infrastructure-as-a-Service (IaaS) delivery. As a pioneer of innovative solutions for provisioning and workflow automation across networking, server, storage, and virtualization technologies, Gale enables the automated and self-service provisioning of dynamic lab, data center, and cloud environments. The company's end-to-end solutions enable organizations to reduce capital and operational expenditures, set up any cloud, lab, demo or data center in just minutes, and provide secure access to resources 24/7 from anywhere in the world. Gale Technologies serves a global customer base with offices in North America and Asia. For more information, visit www.galetechnologies.com.
Contact Information:
For more information, contact:
Joline Biancavilla
BridgeView Marketing
joline@bridgeviewmarketing.com
603-978.4491