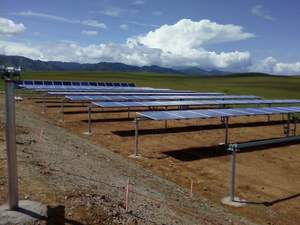 Clean Energy for a Dirty Job: MP2 Capital's 250 kW Solar Project at Wastewater Treatment Plant in Winters, CA
WINTERS, CA--(Marketwire - June 23, 2010) - MP2 Capital, a developer, financier and operator of solar projects throughout North America, has announced the completion of a 250 kilowatt solar photovoltaic (PV) array at the Wastewater Treatment Facility in Winters, California. MP2 Capital has entered into a power purchase agreement to sell all of the electricity generated by the system to the City of Winters for a period of 25 years.
The City of Winters is turning to clean energy for one of its dirtiest jobs -- wastewater treatment. "While treating wastewater may not be glamorous, it is among the city's most crucial -- and costly -- services," said Elliot Landes, Associate, City of Winters. "Partnering with MP2 Capital to implement this solar power project and cut energy costs at our wastewater treatment facility underscores our commitment to adopting renewable energy sources while at the same time providing the best service to our citizens at a cost-effective rate."
Wastewater treatment plants take up significant acreage and require a tremendous amount of energy to operate. Solar energy is the perfect fit for these plants as the solar power systems sit atop already developed land and efficiently offset the plants' energy consumption.
Composed of 1,092 PV panels from Canadian Solar, this system will provide the City approximately 450,000 kilowatt hours (kWh) of clean solar electricity, saving an estimated 10 percent in energy costs during the first year of operation with additional savings expected in years to come. Over the term of the agreement, the system is expected to produce approximately 10,700,000 kWh to offset the wastewater treatment plant's energy use.
The system is run by a unique computer monitoring system that rotates the panels to capture the most sunlight during the day. The computerized system has an interactive component: an observation station that allows staff to monitor the power output.
"This project demonstrates that solar power is a sustainable and viable option for municipalities looking to reduce energy costs while maintaining a high level of service to residents. MP2 Capital is proud to be a part of a project that will have a lasting impact on the City of Winters," said Mark Lerdal, chief executive officer of MP2 Capital.
About MP2 Capital
MP2 Capital LLC develops, finances and invests in distributed generation and small-scale utility solar projects throughout North America. The firm was founded in 2006 in response to the growing demand for clean, renewable sources of energy. MP2 Capital sells the electricity produced by its projects to commercial, government and utility customers under Power Purchase Agreements and Feed-in Tariffs, providing customers with reliable and cost-efficient electricity without any up-front costs or ongoing operating expenses. The firm is based in San Francisco, California. www.mp2capital.com
Contact Information:
For further information please contact:
Jeff Glavan
Managing Director
MP2 Capital, LLC
415-874-5388
jeff@mp2capital.com

Media Contact:
Borders + Gratehouse
Emily Borders
415-963-4174 ext 1
emily@bordersgratehouse.com