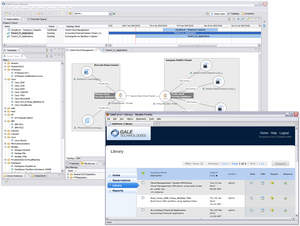 The GaleForce Control Center provides resource management with an end-to-end provisioning and workflow automation service for a wide range of physical and virtual resources, including application, computing, networking, and storage tiers.
SANTA CLARA, CA--(Marketwire - June 30, 2010) - Gale Technologies, a leading provider of software solutions that simplify resource provisioning and cloud orchestration for Infrastructure-as-a-Service (IaaS) offerings, announced today that Technology Marketing Corporation (TMC) has named its flagship solution, GaleForce, as a recipient of a 2009 Communications Solutions Product of the Year Award.
"Gale Technologies has been recognized with a 2009 Product of the Year Award for their admirable efforts in the advancement of resource management, automation, and provisioning across all facets of the test lab, proof-of-concept center, data center, and virtual cloud computing environment," said Rich Tehrani, CEO, TMC. "GaleForce has shown benefits and measurable ROI for its communications and networking equipment vendors and service provider customers. Congratulations to the entire team at Gale Technologies. I look forward to more innovative solutions in the areas of data center automation and cloud orchestration from them in the coming year."
GaleForce enables users to easily automate and provision virtual and physical resources from a single platform, delivering unparalleled communication, efficiency, and utilization to diverse and complex environments for network equipment manufacturers and service providers worldwide. GaleForce is also the first true end-to-end cloud orchestration and data center automation platform that manages multi-vendor and multi-technology environments spanning across physical and virtual computing, networking, and storage resources.
"The GaleForce product has enabled major communications vendors and service providers alike to transform many of their key operations to automated self-service models," said John Klemm, vice-president of sales and marketing at Gale Technologies. "In environments that range from test and development labs, to sales demo and proof-of-concept centers, to live data centers, GaleForce has allowed these companies to deliver on-demand infrastructure services rapidly and reliably, offering better service while saving significant time and money.
To read a case study on how GaleForce has transformed Cisco's worldwide interoperability verification environments for the Cisco Unified Communications Manager and IP telephony products, click here: Gale Technologies Enables Cisco Developer Network.
The Communications Solutions Product of the Year Award recognizes the vision, leadership, and thoroughness that are characteristics of the prestigious award. The most innovative products and services brought to the market from March 2008 through March 2009 were chosen as winners of the Communications Solutions Product of the Year Award.
The 2009 Communications Solutions Product of the Year Award winners are published on the INTERNET TELEPHONY and Customer Interaction Solutions Web site.
About TMC
Technology Marketing Corporation (TMC) is a global, integrated media company helping our clients build communities in print, in person and online. TMC publishes Customer Interaction Solutions, INTERNET TELEPHONY, Unified Communications, and NGN magazines. TMCnet, TMC's Web site, is the leading source of news and articles for the communications and technology industries. TMCnet is read by two million unique visitors each month on average worldwide, according to Webtrends. TMCnet has ranked within the top 3,500 in Quantcast's Top U.S. sites, placing TMCnet in the nation's top .03% most visited Web sites. In addition, TMC produces ITEXPO; 4GWE Conference and M2M Evolution (in conjunction with Crossfire Media); Digium|Asterisk World (in conjunction with Digium); and Smart Grid Summit (in conjunction with Intelligent Communication Partners). TMC serves other communications market segments with the Cloud Communications Summit (in conjunction with Light and Electric); CVx ChannelVision Expo (in conjunction with Beka Publishing); and MSPWorld™ (in conjunction with the MSP Alliance).
TMC also serves technology professionals with industry-specific Web sites: InfoTech Spotlight, 4GWE, M2M Evolution.com, Smart-Grid.TMCnet.com, Smart Products Ecosystem, Robotics.TMCnet.com, Cable.TMCnet.com, Satellite Spotlight, Green.TMCnet.com, Healthcare.TMCnet.com, Business Video, Finance.TMC.com, Legal.TMC.com and Education.TMCnet.com.
For more information about TMC, visit www.tmcnet.com.
About Gale Technologies
Headquartered in Santa Clara, Calif., Gale Technologies provides advanced software solutions to automate, orchestrate, and optimize resources -- transforming the process of Infrastructure-as-a-Service (IaaS) delivery. As a pioneer of innovative solutions for provisioning and workflow automation, as well as cloud orchestration across networking, server, storage, and virtualization technologies, Gale enables the automated and self-service provisioning of dynamic lab, data center, and cloud environments. The company's end-to-end solutions enable organizations to reduce capital and operational expenditures, set up any cloud, lab, demo or data center in just minutes, and provide secure access to resources 24/7 from anywhere in the world. Gale Technologies serves a global customer base with offices in North America and Asia. For more information, visit www.galetechnologies.com.
Contact Information:
For more information, contact:
Joline Biancavilla
BridgeView Marketing
joline@bridgeviewmarketing.com
603.978.4491