Watch the video tour for the Sisters, Oregon mountain retreat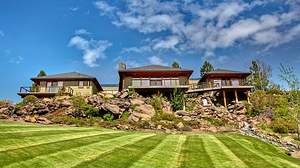 The Sisters, Oregon mountain retreat will sell at absolute auction with no minimums and no reserves
SISTERS, OR--(Marketwire - July 7, 2010) - Located at the foot of the Three Sisters in the Cascade Mountain Range, a luxurious, private, three-bedroom home will sell absolute at a real estate auction on July 20 with no minimums and no reserves. The sale, conducted by J. P. King Auction Company, will take place onsite at 66570 Three Creeks Road in Sisters, Ore.
"This is one of the more beautiful mountain homes I've seen," said Craig King, president and CEO of J. P. King Auction Company. "The master bedroom has floor-to-ceiling windows with a view of the mountains that goes on for miles and access to an outdoor lava spa that provides luxurious tranquility and relaxation."
In addition to a grand master bedroom, the Sisters Mountain Retreat features a gourmet kitchen with honed granite countertops and a Sub Zero refrigerator, a floor-to-ceiling Montana slate wood-burning fireplace, a glass-enclosed breakfast nook that overlooks the cascading waterfall and a skylight that showcases the stars at night. Its current owners, Dick and Kathie Hesler, build exactly what they wanted: relaxation and privacy with a view.
"We wanted to create a home that was relaxing, secluded and still beautiful," said Dick Hesler. "We hired an architect, and we built a home that is very private and contemporary and terrific. It's beautiful up here."
The property also includes a caretaker's quarters with a three-car garage, artist studio, heated dog kennel, full bath and a 12x40 apartment.
The home, which has a private security gate, is about six miles from downtown Sisters and 28 miles from the larger city of Bend. It is beautifully landscaped and overlooks a private lake with imported white sands. Two waterfalls flow out of a lava hillside and cascade down to the private lake.
"We found out about J. P. King when we realized we needed to expand our marketing efforts for selling our home," said Hesler. "Once we started speaking to J. P. King, we felt it was best suited for us."
The auction will take place on Tuesday, July 20 at 1 p.m. For additional information, individuals may contact J. P. King at 800.558.6474 or visit the company's website at www.jpking.com.
J. P. King Auction Company specializes in high-value properties and portfolios such as luxury homes, developments, condominiums and land and ranches. The company has marketed properties in all 50 states and six countries with recent sales in Texas, Florida, Tennessee, Mississippi, Wisconsin, Alabama and Oklahoma.
Contact Information:
Contact:
Caley King Newberry
Cell: 256.295.3629