Derek Fisher addresses the regional press from the Cisco TelePresence Suite in the Cisco Pavilion at World Expo in Shanghai.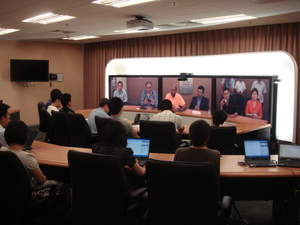 The press in Beijing listen on attentively.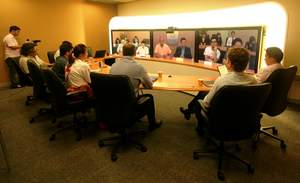 As do the press in Singapore.
SHANGHAI, CHINA--(Marketwire - July 8, 2010) - Five-time NBA champion Derek Fisher of the L.A. Lakers visited the Cisco (NASDAQ: CSCO) Pavilion at World Expo 2010 in Shanghai recently and had a firsthand experience of Cisco's vision for Smart+Connected Communities.
Fisher, who was in Shanghai on an NBA promotional tour that included celebrations for Independence Day at the U.S.A. Pavilion, also conducted a Q&A session with press across Asia Pacific, Greater China and Japan over Cisco TelePresence™ from the Cisco Pavilion in a session that was broadcast live over the Internet.
"I was really impressed by the smart connected communities showcase at the Cisco Pavilion. Technology is so much a part of our lives today and it's exciting to see how much more it could possibly enhance our lives. This is my first visit to Shanghai and the pulse and energy in this city of 18 million people is just incredible. It's staggering to think how many more cities of this size will develop in Asia over the next 50 years and the technologies that Cisco is showcasing will certainly be required to cope with this rapid urbanization," Fisher said.
Over the next five years, around 700 million people will be added to the world's cities, and by 2050, at least 100 new cities will be inhabited by more than a million residents. This urbanization presents a number of great prospects. The cities of the 21st century will be defined by Internet access and broadband, with the ability to connect virtually anything to the network: cars, hospitals, buildings, energy, home appliances and schools. This is the premise that Cisco is showcasing in its pavilion at World Expo.
To view a recording of Derek Fisher's Press Q&A session, click here.
Derek Fisher Facts:
L.A. Lakers point guard Derek Fisher recently celebrated winning his fifth NBA Championship with the Lakers in an exciting final series with the Boston Celtics that went all the way to Game 7.
The L.A. Lakers' series-clinching win over the Boston Celtics was the most-watched NBA game since the NBA Finals in 1998.
Derek Fisher had the highest three-point field goal percentage in NBA Finals history (42.6 percent).
The NBA listed his "0.4 shot" as the 18th-greatest playoff moment of all time.
Cisco Pavilion Facts:
Cisco is the only global information technology company with its own corporate pavilion at World Expo. Cisco is also the senior sponsor of networking systems and solutions for World Expo.
The theme at the Cisco Pavilion is 'Smart+Connected Life,' which is in line with the World Expo theme of Better City, Better Life.
The Cisco Pavilion is a living, breathing showcase of Cisco's Smart+Connected Communities initiative, which provides a blueprint for governments and city planners as they develop the sustainable cities of the future.
The Cisco Smart+Connected Communities initiative is designed to provide cities and communities with smart and connected solutions for utilities, safety and security, connected real estate, transportation, healthcare, learning, sports venues, and government services.
Visitors to the Cisco Pavilion will also experience future technologies that transform a city's key sectors like health care, education, transportation, offices and the home. Highlights from the showcase include systems that allow for green home energy control, digital whiteboards in classrooms, virtual health care, real-time public transportation management, and a smart grid for utilities.
Supporting Resources:
Tags /Keywords:
Derek Fisher, L.A. Lakers, NBA, World Expo 2010, Smart+Connected Communities
RSS Feed for Cisco:
http://newsroom.cisco.com/dlls/rss.html
About Derek Fisher
Derek Lamar Fisher (born August 9, 1974) is an American professional basketball player with the Los Angeles Lakers, whose NBA career has spanned more than 14 years. He currently serves as the president of the National Basketball Players Association.
Born in Little Rock, Ark., Fisher started his basketball career at the University of Arkansas at Little Rock. Selected as the 24th pick by the Los Angeles Lakers in the 1996 NBA draft, Fisher spent his first eight seasons with the franchise. During this time, he played a role in the Lakers' "three-peat" and was the third-leading scorer on the team behind Kobe Bryant and Shaquille O'Neal. Fisher has played in 199 career playoff games, the fifth-highest total in NBA history. He ranks second all time in NBA finals three-pointers made (43), behind former teammate Robert Horry. Only he and Kobe Bryant have played in all five of the Lakers' most recent championships.
About Cisco Systems
Cisco (NASDAQ: CSCO), the worldwide leader in networking that transforms how people connect, communicate and collaborate, this year celebrates 25 years of technology innovation, operational excellence and corporate social responsibility. Information about Cisco can be found at http://www.cisco.com. For ongoing news, please go to http://newsroom.cisco.com. Cisco products are supplied in Asia Pacific, Greater China and Japan by Cisco Systems International, BV, a wholly owned subsidiary of Cisco Systems, Inc.
Cisco, the Cisco logo, Cisco Systems and Cisco TelePresence are registered trademarks or trademarks of Cisco Systems, Inc. and/or its affiliates in the United States and certain other countries. All other trademarks mentioned in this document are the property of their respective owners. The use of the word partner does not imply a partnership relationship between Cisco and any other company. This document is Cisco Public Information.
Contact Information:
Cisco Press Contact:
William Oei
Cisco
(65) 6317-5555
loei@cisco.com