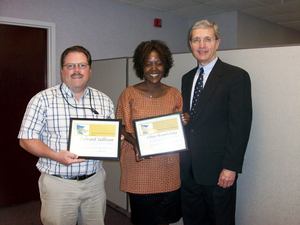 Msambichaka and Sullivan Receive Minnesota Family Involvement Council Scholarships at TopLine Federal Credit Union
MAPLE GROVE, MN--(Marketwire - July 9, 2010) - TopLine Federal Credit Union is honored to announce that Lilian Msambichaka and Edward Sullivan, both of Farmington, Minnesota, each won a $500 scholarship from the Minnesota Family Involvement Council (FIC). This year, the FIC offered $11,000 in college scholarships to Minnesota credit union members.
More than 700 students applied for the scholarships from credit unions throughout the state. Applicants were selected based on school and community involvement, and an essay which explained strategies to give credit unions a higher profile -- even though they were established in the U.S. 100 years ago -- and to help them grow.
Lilian Msambichaka currently lives in Farmington and is attending the University of Minnesota Medical School. She is an active member in the Student National Medical Association and also volunteers for outreach programs, such at the Pillsbury House Integrated Clinic that provides free healthcare.
Edward Sullivan currently lives in Farmington and is attending the University of Phoenix for Information Technology. He also participates as a certified Skywarn Spotter by providing timely and accurate reports of severe weather to the National Weather Service to help keep local communities safe.
Harry Carter, President/CEO, said, "TopLine has been involved with the Minnesota Family Involvement Council scholarship program since 1997, and we are very pleased that two of our members were chosen as scholarship recipients this year. We are a strong supporter of financial education in our communities, and participating in the scholarship program fits well within that mission."
The Minnesota Family Involvement Council (FIC) is a volunteer organization made up of representatives from credit unions around the state of Minnesota to enhance the future of the credit union movement by promoting financial awareness, financial education and full-family involvement. The FIC began in 1985 and launched the scholarship program in 1997 and has received more than 6,000 scholarships applications and has awarded nearly $102,000 in scholarships.
TopLine Federal Credit Union, a Twin-Cities based credit union, is Minnesota's 13th largest, with assets of more than $270 million. Established in 1935, TopLine offers a complete line of financial services from its headquarters in Maple Grove, and five branch offices located in Brooklyn Center, Brooklyn Park, Edina, Maple Grove and Plymouth, as well as by phone and online at www.TopLinecu.com. Membership is available to anyone who lives, works, worships, attends school or volunteers in Anoka, Carver, Dakota, Hennepin, Ramsey, Scott or Washington Counties and their immediate family members.
Contact Information:
CONTACT:
Vicki Roscoe Erickson
AVP Marketing
TopLine Federal Credit Union
verickson@toplinecu.com
763.391.0872