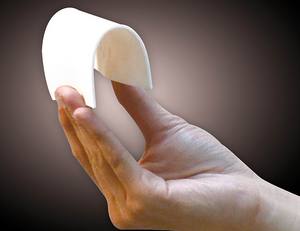 REDDEX is a green, environmentally friendly fire resistant material that can effectively inhibit rising backing temperatures.
FlexUPD is a technology that allows for the commercialization of the first quality flexible displays.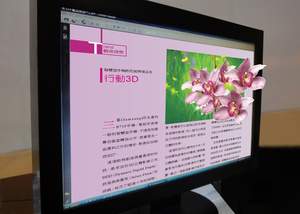 i2/3DW is the next-generation 3D display technology with integral 2D and 3D for the naked eye.
HSINCHU, TAIWAN--(Marketwire - July 9, 2010) - The Industrial Technology Research Institute (ITRI) in Taiwan has again been honored at the 2010 Annual R&D 100 Awards. This is the third consecutive year that ITRI has received the honor. In the fiercely competitive world of technology innovation, ITRI joins familiar industry names including IBM, Siemens, Intel, Toyota and prestigious government and academic laboratories such as Oak Ridge National Laboratory, Lawrence Livermore National Laboratory and MIT's Lincoln Laboratory, receiving a total of three awards for its fire-resistant material REDDEX, 3D display technology with integral 2D and 3D i2/3DW and Flexible Universal Panel for Displays FlexUPD.
The R&D 100 Award is a highly coveted R&D and technology award in international R&D circles. Each year, one hundred items of commercial technology that represent a major innovation are selected from thousands of new technologies developed around the world. For this year, the judging panel comprised of scientists, experts and scholars from R&D institutes and influential companies was responsible for selecting the winners. The unique innovativeness of the technology is not the only criteria taken into account. Other factors considered are the scientific breakthrough effect and future real-life applications. "The R&D 100 Awards have always represented some of the most innovative concepts to reach the marketplace in the past year," said Rita Peters, editorial director of R&D Magazine.
This is the third straight year that ITRI has received the R&D 100 Awards. REDDEX, developed by ITRI, is a non-toxic fire resistant material that will not drip melt and effectively reduce fire spread. After exposure to high temperatures of 1000 degrees Celsius, the back side material can be effectively protected by maintaining the temperature at 300 degrees Celsius or less for over 60 minutes. Due to its high level of adhesion of each type of substrate, structures will stay strong even after exposure to a fire. Even when steel has been in contact with flame for long periods of time, REDDEX will stay closely adhered to the main structure to ensure that the building will be protected from exposure and damage by the high flame temperatures. Being low density, flexible, low smoke toxicity and highly durable, there are a broad range of product applications for this material. It conforms to new environment regulations of EU and is expected to have a revolutionary effect on transportation, building and everyday industrial goods.
3D stereoscopic applications are the latest trend in consumer electronics. i2/3DW not only breaks through the current 3D display application restriction to small fixed areas on mobile phones but also allows the insertion of different sized 3D images on static text page. The 3D image location can be dragged to any location and reduced/enlarged as desired. The 2D text is clearly legible and has the same high resolution as the display. This solution is a significant improvement over regular stereoscopic displays with full screen 3D images. The text resolution on these displays is lower, making it harder for the viewer to read. This technology can be applied to moving internet ads, internet games, 3D video games, product advertisement and other areas that use 3D media images.
FlexUPD introduces a layer of de-bonding material between a polyimide layer and glass carrier to an existing TFT glass process. The thin film transistor array that is used now for panel displays is made on this soft PI film which can be smoothly cut away without damaging the transistors. It is just like a layer of non-stick material between a pancake and pan. Similarly, it not only enables smoothly separating the pancake from the pan, but it also won't damage the surface of the pancake. This technology will assist panel display manufacturers take advantage of their existing superiority in glass processes to cross over into flexible display production and provide new opportunities to produce high value flexible displays with small-to-medium sized processes that are facing obsolescence, not to mention providing a timely solution for the problem of high expense of building manufacturing plant by the flat panel industry.
In recent years, ITRI has won international awards for its R&D efforts. Over the past two years, ITRI has been honored with R&D 100 awards for On-Chip AC LED lighting technology and STOBA. Last year, FleXpeaker won the Technology Innovation Award from Wall Street Journal. The awards received this year display once again that ITRI's innovative capabilities are recognized internationally.
About ITRI (www.itri.org.tw/eng)
The Industrial Technology Research Institute (ITRI) is a nonprofit R&D organization engaging in applied research and technical services. Founded in 1973, ITRI has played a vital role in transforming Taiwan's economy from a labor-intensive industry to a high-tech industry. Numerous well-known, high-tech companies in Taiwan, such as leaders in the semiconductor industry TSMC and UMC, can trace their origins to ITRI.
REDDEX
Conventional fire resistant materials may be completely non-flammable but they are also high density, heavy and non-flexible. As a result, it can easily crack, peel and generate large quantities of dust. Conventional flame resistant materials contain halogens and phosphorous which can release toxic gases when burned. REDDEX is a green, environmentally friendly fire resistant material that can effectively inhibit rising backing temperatures. Since it does not contain halogens, phosphorous or sulfur, REDDEX only releases steam when it is burned. Virtually no toxic gases are released. Smoke density levels only reach 2.0 which are stricter than the safety standard of 200. REDDEX passed the U94 fire resistance test, showing a level of V0 in tests directed at the layer thickness of 0.1-1.0 mm. This is the most rigorous standard for this testing technology. The insulation material has been successfully used in coatings, thin films, hoses, panels and fabrics.
i2/3DW: The Next-generation 3D Display Technology with Integral 2D and 3D for the Naked Eye
i2/3DW is a 3D display with a micro-retarder film at its core. There is 2D/3D switching technology available on the market today, but it is only used for small mobile phone display applications. The 2D/3D switching is also done at a fixed location. The 3D image may not be switched on at a random location on the screen. Due to the lack of sufficient 3D image content, the ITRI developed a composite 2D/3D switching stereoscopic display with 2D and 3D at any location switching function. This function allows users to watch 3D movies and 3D display images when needed as well as regular 2D video content viewing which greatly raises the purchasing intent of users.
FlexUPD: Flexible Universal Panel for Displays
This special material is also called a de-bonding layer. During the manufacturing process, it firmly sticks to the PI film and glass carrier so it precisely aligns the PI film with a shift tolerance of less than 2 um during TFT transistor and circuit manufacturing. After the multilayer transistor array process, the de-bonding layer lets the PI film to easily separate from the glass. It has the transparency of over 90% and withstands temperatures of 200 degrees or more. It is completely resistant to the chemical solutions used in the TFT process. Companies can introduce this material to the existing processes. No new equipment needs to be purchases. The glass carrier used does not have to be TFT optical grade which greatly reduces cost. It is currently being used in the liquid crystal display industry. In the future, this material may be broadly applied to OLED, EPD and TFT-LCD products.
Contact Information:
Media Contact:
Kristie Lee
ITRI, Office of Marketing Communications
Tel: +886-3-5919392