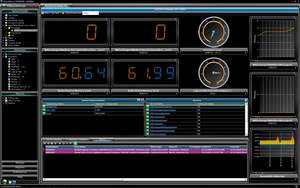 NeuralStar 9.6 includes new Unified Monitoring Centers (UMC) to manage critical enterprise applications, including Microsoft Exchange (above), SQL, and IIS. In distributed environments, UMCs provide enhanced situational awareness across multiple installations.
SAN DIEGO, CA--(Marketwire - July 14, 2010) - Kratos Networks announced the release of NeuralStar® version 9.6, its enterprise-class management solution that provides situational awareness across distributed IT networks. Among other new features, the release delivers enhancements to NeuralStar's application monitoring capabilities, helping IT professionals maintain the availability and performance levels of critical business services.
NeuralStar provides real-time global views of all network operations and security. Key enterprise-class capabilities include NOC level visibility, management of multiple and geographically distributed networks and automatic failover and redundancy for continuous operations. It monitors event data for all network connected devices, ports, services or applications -- from security, to availability, to performance.
Application management enhancements in the release come in the form of new Unified Monitoring Centers for three of the most critical enterprise applications: Microsoft® Exchange, IIS and SQL. These Centers capitalize on NeuralStar's unique strength in collecting disparate data types and fusing them in consolidated, customizable dashboards. Easy-to-use wizards allow IT professionals to tailor the Centers to their particular environments. Large enterprises can create multiple Centers for each application to provide better situational awareness across multiple installations in distributed environments.
NeuralStar's Unified Monitoring Centers track the dependencies that are critical to performance and meet specific technological and operational goals. Key metrics are displayed in a single view, such as system responsiveness, application services, server and application utilization, and more. Additionally, all elements that contribute to the delivery of a business service are automatically grouped to provide unified alarm grids that contain any alerted event that may affect service delivery, regardless of which component generated the event.
"The enhancements in NeuralStar 9.6 address two of the most pressing issues in the enterprise -- the need to increase productivity and the satisfaction of business applications users," said Mike Smith, General Manager of Kratos Networks. "Enterprises are deploying applications across the globe in complex business environments and require NeuralStar's high-level visualization, situational awareness and performance management across distributed networks."
In related news, Kratos recently announced contracts for NeuralStar and its sister product dopplerVUE® with two unnamed National Security and defense-focused agencies of the United States to provide real time situational awareness to assure availability, reliability, and security of IT operations. NeuralStar is also deployed in some of the largest and most complex, mission-critical environments in the world including the Defense Information Systems Agency (DISA), the Missile Defense Agency (MDA) and in commercial enterprises such as BNSF.
About Kratos Networks
Kratos Networks is a division of Kratos Defense & Security Solutions, Inc. (NASDAQ: KTOS), specializing in products and services that help large and small organizations better manage their network-centered operations. Flagship products include NeuralStar, an enterprise management solution that integrates data across distributed networks for strategic global views and dopplerVUE®, an easy to use network monitoring and management tool that brings enterprise-grade features to networks of any size. The Kratos Network Management Platform is the foundation of both of these products and serves as an event management correlation and dashboarding solution that is ideal for creating custom monitoring applications or as the basis for original equipment manufacturers (OEM) creating built-in management capabilities for their hardware or software products.
For more information about NeuralStar, dopplerVUE or the Kratos Network Management Platform, please visit www.KratosNetworks.com.
Contact Information:
Press Contact:
Joel Greenberg
DCPR
202-363-1065
cell 202-669-3639