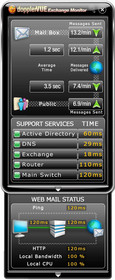 The Kratos Exchange Monitor is a free downloadable utility that tracks the elements critical to Microsoft Exchange health -- including support services, mail queue, and Outlook Web Access (OWA) performance -- all at-a-glance from the desktop.
SAN DIEGO, CA--(Marketwire - July 29, 2010) - While inexpensive is good, complimentary is better. Kratos Networks announces the release of a free desktop utility that helps IT and network managers monitor the availability and performance of one of the most critical business communication applications -- Microsoft® Exchange. The Kratos Exchange Monitor continuously tracks the elements that are critical to ensuring optimal Exchange health including support services, mail queue, and Outlook Web Access (OWA) performance.
IT managers can use the Kratos Exchange Monitor as a quicker and more convenient way to track the entire Exchange email service from their desktops without the need to launch a full blown management program. It monitors critical service dependencies from the Exchange application itself, down to network connectivity, server performance, Active Directory, DNS and more.
The Exchange Monitor identifies growing mail queues that can indicate larger issues, like transport delays or server over utilization. Performance issues can be prevented before users are impacted by setting mail queue size thresholds with built-in color coded health indicators. The utility also delivers the ability to monitor the status of your Outlook Web Access, to set thresholds and to load automatically at start-up so there is always an at-a-glance view of Exchange health.
To view additional and deeper metrics, manage multiple Exchange servers and other critical applications including IIS and SQL, Kratos Networks offers dopplerVUE®, an easy to use network monitoring and management tool, and NeuralStar®, an enterprise management solution used in some of the world's most advanced and secure networks, which monitors applications across multiple installations in distributed environments.
The Kratos Exchange Monitor is the latest in Kratos Networks' family of free IT management gadgets. Since their debut, the series of utilities has logged over 100,000 downloads. The full line up includes:
Exchange Monitor -- tracks services critical to Exchange performance
Website Traffic Monitor -- helps managers identify why users may experience website performance issues
Service Level Monitor -- measures upload and download speeds
Server Performance Monitor -- monitors local or remote servers
Device Monitor -- collects and graphs any of hundreds of network device metrics
Syslog Alarm Monitor -- uses syslog messages to identify potentially troubled network devices
To download the Exchange Monitor or any other IT desktop utilities, please visit: http://www.kratosnetworks.com/index.php/products/free_network_management_utilities/
About Kratos Networks
Kratos Networks is a division of Kratos Defense & Security Solutions, Inc. (NASDAQ: KTOS), specializing in products and services that help large and small organizations better manage their network-centered operations. Flagship products include dopplerVUE®, an easy to use network monitoring and management tool that brings enterprise-grade features to networks of any size and NeuralStar, an enterprise management solution that integrates data across distributed networks for strategic global views. The Kratos Network Management Platform is the foundation of both of these products and serves as an event management correlation and dashboarding solution that is ideal for creating custom monitoring applications or as the basis for original equipment manufacturers (OEM) creating built-in management capabilities for their hardware or software products.
For more information about dopplerVUE, NeuralStar or the Kratos Network Management Platform, please visit www.KratosNetworks.com.
Contact Information:
Press Contact:
Joel Greenberg
202-363-1065
202-669-3639 cell