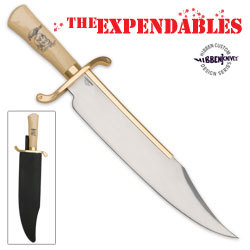 Gil Hibben's The Expendables Bowie by United Cutlery
ATLANTA, GA--(Marketwire - August 11, 2010) - United® Cutlery, the industry leader in fine film prop reproductions since 1984, announced today the production of The Expendables Bowie, designed by master knife maker Gil Hibben, from the upcoming Lionsgate film The Expendables. The film is scheduled for release in the U.S. on August 13, 2010. The Expendables Bowie is now available for pre-order from BUDK, a United Cutlery dealer, at budk.com.
Liongate's The Expendables is a 2010 hard-hitting action/thriller movie about a group of mercenaries hired to infiltrate a South American country and overthrow its ruthless dictator. Once the mission begins, the men realize things aren't quite as they appear, finding themselves caught in a dangerous web of deceit and betrayal. With their mission thwarted and an innocent life in danger, the men struggle with an even tougher challenge -- one that threatens to destroy this band of brothers.
The Expendables pays tribute to the blockbuster action films of the 80s and 90s with a jam-packed all-star cast including Sylvester Stallone, Arnold Schwarzenegger, Bruce Willis, Dolph Lundgren, Mickey Rourke and Jet Li, as well as more recent stars such as Jason Statham, Terry Crews, Randy Couture and Steve Austin.
As the creator of some of the most widely recognized knives in the industry today, Gil Hibben's knowledge and 53 years of experience are unprecedented in the world of custom knife making. Mr. Hibben has worked for many years with Sylvester Stallone in the development of knives used for his roles in previous blockbuster motion pictures. Mr. Stallone approached Mr. Hibben about using a bowie knife he saw on the Gil Hibben website, www.hibbenknives.com, for use in The Expendables movie. Mr. Hibben updated the highly traditional bowie style knife by adding a stabilized synthetic ivory handle with scrimshaw tattoo art from the film and accented the piece with a gold-plated blade catcher and guard. The classic 14" blade is constructed from polished stainless steel. Included is a custom leather sheath with Hibben Knives® logo.
"We are thrilled to be associated with The Expendables film," says Clint Kadel, CEO of United Cutlery. "We have a proud heritage of carrying many of Gil Hibben's designs, and this unique piece is certain to be a collector's item. Gil is a master of his craft and his work is coveted by knife fans the world over. The Expendables Bowie is yet another example of Gil's extraordinary craftsmanship and attention to detail -- it is truly a one-of-a-kind masterpiece."
For more information visit Budk.com.
About United® Cutlery
With 26 years of branded experience, United Cutlery continues to be the leader in producing top quality licensed collectibles. United Cutlery strives to make knives and swords to the highest standards in the industry with superior materials and workmanship that are a step above the cheap imitations. In addition Lionsgate's The Expendables, United Cutlery is currently licensed to manufacture products for Disney's Prince of Persia: The Sands Of Time, God of War®, Devil May Cry4®, GI Joe: Rise of Cobra, KISS®, Lynyrd Skynyrd®, The Lord of the Rings™, and Highlander®.
About BUDK®
BUDK offers high-quality, direct-to-consumer swords, knives, medieval and fantasy weaponry, air guns, and other collectible weapons. BUDK was founded by Clint Kadel more than 20 years ago and has been a thriving success since. BUDK distributes The BUDK Catalog and operates the www.budk.com Web site. For a free catalog or to view the entire BUDK product selection, visit their Web site. BUDK is also on Facebook at Facebook.com/Budk, Twitter at Twitter.com/BudkCatalog and YouTube at YouTube.com/Budkcatalog.
Contact Information:
Contact:

Angela Singletary
Gio Public Relations
612-309-2811