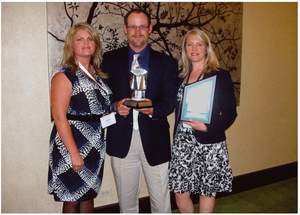 Daniel Tezak (center) accepts Constructech 2010 Vision Award, joined by wife Shelli (left) and Laura Kaye, Regional Sales Manager, Maxwell Systems (right). Maxwell Systems was recognized as the technology enabler that helped Tezak Heavy Equipment achieve this honor.
KING OF PRUSSIA, PA--(Marketwire - August 30, 2010) - Maxwell Systems, Inc., a leading provider of complete construction business management software solutions, today announced that it was a recipient of Constructech magazine's 2010 Vision Awards. Maxwell Systems' customer, Tezak Heavy Equipment Co. Inc., won the Silver Award in the Heavy Highway/General Contractor category and Maxwell Systems was recognized as the technology enabler for the company.
Tezak Heavy Equipment and Maxwell Systems accepted the award at a ceremony held on August 19 at the Hyatt Regency Woodfield Schaumburg hotel in Illinois at the conclusion of the fifth annual Technology Day conference. The Constructech Vision Awards honor companies that have realized the advantages of applying innovative technologies to their everyday businesses as well as the technology enablers that have helped them achieve their goal.
"This award is a testament to a great partnership we have with Maxwell Systems," explained Daniel Tezak, President of Tezak Heavy Equipment. "In this environment where everyone is fighting for limited projects, the competition is brutal and the accurate, timely estimates we can create with Maxwell Systems digital takeoff and estimating software are necessary to win work that we can build. Once we acquire work, our construction accounting solution from Maxwell Systems enables us to track our projects in real time to know where we are at in relation to our budget and address any issue before it is too late. Maxwell Systems solutions are helping our firm to be more competitive in winning business during this tough economic cycle and have allowed us to find every possible advantage to help us grow our business and succeed."
Tezak Heavy Equipment is a second-generation family-owned and operated business located in Southeastern Colorado. The firm has extensive experience in highway/heavy construction, excavation, slope stabilization, channel armoring, channel improvements, water and sewer installation, drilling and blasting and commercial overlot grading. Dedicated to using the latest equipment and technology to best meet its customers' needs, Tezak utilizes Maxwell Systems software to perform quick and accurate takeoff and estimating, as well as to streamline its accounting processes and manage the business.
"Each time one of our clients wins this award it is a great honor for us," said Jim Flynn, President & CEO of Maxwell Systems. "Tezak realizes the value of leveraging technology to streamline processes and gain that needed competitive edge in today's economy. We are proud that our comprehensive solutions have helped them increase their efficiency to win more jobs and better manage those projects for maximum profitability."
ABOUT MAXWELL SYSTEMS
Maxwell Systems is a leading provider of complete construction business management and property management software solutions and services. Founded in 1975, Maxwell Systems is dedicated to helping its 10,000 customers streamline their estimating, job cost accounting, and project management processes and improve profitability. To deliver true end-to-end control of critical business processes, the company's product offerings include: ProContractorMX™, American Contractor™, Management Suite™, StreetSmarts®, and Estimation®. To further help customers grow their business while maximizing the return on their technology investment, Maxwell Systems provides comprehensive support and maintenance, training, and consulting. The company's headquarters are in King of Prussia, Pa., with offices in Baltimore, Md., Fort Collins, Colo., Santa Cruz, Calif., and Sarasota, Fla. More information is available at www.maxwellsystems.com.
© 2010 Maxwell Systems, Inc. All Rights Reserved. Maxwell Systems, ProContractorMX, American Contractor, and Management Suite are trademarks and Estimation and StreetSmarts are registered trademarks of Maxwell Systems, Inc. Other trademarks are property of their respective owners.
Contact Information:
Media Contacts:
Andrea Frassoni
Maxwell Systems, Inc.
800-688-8226, ext. 1240