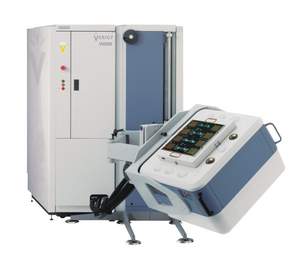 Verigy's V93000 platform tests devices used in a wide range of electronic products including MP3 players, digital televisions, television set-top boxes, PCs, gaming consoles and cell phones and other wireless communication devices.
CUPERTINO, CA--(Marketwire - September 2, 2010) - Long-time customer King Yuan Electronics Co., Ltd. (KYEC), one of the world's largest semiconductor test foundries, has selected Verigy (NASDAQ: VRGY), a leading semiconductor test company, as its preferred test equipment partner for KYEC's entry into the RF SOC (radio-frequency, system-on-chip) device market.
KYEC has ordered and installed several of Verigy's V93000 SOC testers with pin-scale digital cards for testing high-volume semiconductors for RF-based mobile computing applications, including consumer electronics. Verigy's V93000 Port Scale RF system provides parallel test capability with high multi-site efficiency, delivering best-in-class throughput and low cost-of-test. In addition to supporting KYEC's initial testing needs for RF-based semiconductors, these flexible systems also can be adapted to test graphics devices and mixed-signal ICs.
Each RF tester in the order is equipped with Verigy's pin-scale digital and analog cards, which optimize the speed and accuracy of Verigy's testers by enabling each pin to be flexibly and instantly configured to adapt to changing test needs. In addition, each pin offers both single-ended and differential I/O test capabilities suitable for testing a wide range of interfaces. This allows the equipment to be matched pin-by-pin to the device under test, resulting in the highest equipment utilization and the lowest cost of test. As device requirements change, additional high-speed pins can be cost-effectively added.
With installation now completed, Verigy's V93000 platform is the only test equipment at KYEC with a full utilization rate. Using Verigy's pin-scale cards, each tester's performance can be fine-tuned for a specific type of IC, giving KYEC the versatility to test a wide variety of semiconductors ranging from low-integration devices such as power amplifiers, tuners and transceivers up to high-integration RF devices containing integrated mixed-signal, digital, power management and embedded or stacked memory.
"Our selection criteria are focused on ROI," said Gauss Chang, chief operating officer of KYEC. "We chose Verigy as our preferred equipment partner because of its testers' high flexibility and performance capabilities as well as the company's superior engineering support and commitment to continuous improvement of its products' capabilities."
"Our partnership with KYEC is a successful model for mutually beneficial cooperation between an equipment user and supplier," said Pascal Ronde, Verigy's vice president of worldwide sales, service and support. "This repeat order from KYEC validates the productivity of our V93000 system. With this latest system installation, KYEC is now able to increase its RF SOC testing business with both IDMs (integrated device manufacturers) and fabless semiconductor companies at its facilities in Hsinchu and Chu-Bei, Taiwan."
About King Yuan Electronics Co., Ltd.
King Yuan Electronics Co., Ltd. (KYEC) is a leading global provider of semiconductor back-end services offering innovative test platforms supporting a full range of applications. The company's portfolio -- including wafer probe, final test, pre-assembly, burn-in and drop shipment -- is directed at serving foundries, IDMs and fabless semiconductor companies looking for a "one-stop shop" IC testing partner. Founded in 1987, KYEC is one of the world's largest testing houses with four state-of-the-art facilities, over 4,200 employees and regional offices throughout the world including the U.S.A., Japan, Europe and Singapore.
About Verigy
Verigy provides advanced semiconductor test systems and solutions used by leading companies worldwide in design validation, characterization, and high-volume manufacturing test. Verigy offers scalable platforms for a wide range of system-on-chip (SOC) test solutions, and memory test solutions for Flash, DRAM including high-speed memories, as well as multi-chip packages (MCP). Verigy also provides advanced analysis tools that accelerate design debug and yield ramp processes. Additional information about Verigy can be found at www.verigy.com.
Contact Information:
COMPANY CONTACT:
Judy Davies
VP, Investor Relations and Marketing Communications
+1 408-864-7549