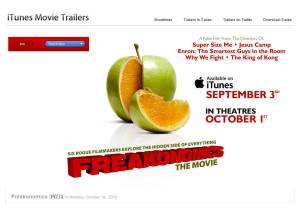 'Freakonomics' trailer on iTunes.
LOS ANGELES, CA--(Marketwire - September 3, 2010) - Freakonomics, the highly anticipated film version of the internationally bestselling book about incentives-based thinking by Stephen Dubner and Steven Levitt, hits theaters on October 1, 2010, but the film is now available via Video on Demand and iTunes (www.iTunes.com/freakonomics) prior to its theatrical release. Produced by Green Film Company and distributed by Magnolia Pictures, Freakonomics is the first film ever to be made available simultaneously across multiple platforms in a concentrated, pre-theatrical timeframe, and this marks the first time in cinematic history that Apple has partnered with a film prior to the film debuting in theaters.
Distributing the film across three popular formats -- Video on Demand, download from iTunes, or an unmatched theatrical experience -- seeks to expand the reach of what is technically an independent specialty film in terms of financing, vision and a committed audience of non-fiction film aficionados. Freakonomics boasts wider appeal to movie-going audiences by virtue of the brand recognition and fervent fan base associated with Dubner and Levitt's highly acclaimed books, necessitating the availability of the film to consumers in their pick of digital formats in advance of the theatrical release.
"Global theatrical attendance remains strong, but the emergence of new technologies and the frantic pace of their adoption have expanded film consumption habits," observes Chad Troutwine, Producer of the cinematic adaptation. "The Freakonomics distribution model embraces technology, allowing us to engage filmgoers who understandably prefer a theatrical experience, but to also reach a wider film audience who consume content through digital platforms. This strategy offers multiple viewing options, which has become increasingly attractive in the digital era."
Like the book, Freakonomics examines human behavior with provocative and occasionally hilarious case studies brought to life by a dream team of Academy Award® and Sundance Film Festival winning directors. Rachel Grady and Heidi Ewing (Jesus Camp) balance levity and candor with their eye-opening profile of underachieving kids incentivized to learn with cold hard cash. Alex Gibney (Enron: The Smartest Guys in the Room) delivers a visually arresting look at the crumbling facade of Sumo wrestling. Morgan Spurlock (Super Size Me) offers up a buoyant and revealing angle on the repercussions of baby names. Finally, Eugene Jarecki (Why We Fight) investigates an unsettling theory to explain why crime rates dramatically dropped in the early 1990s. Seth Gordon (The King of Kong) weaves the segments together with brisk interludes, providing context and commentary from authors Dubner and Levitt.
Freakonomics is now available for iTunes download at www.iTunes.com/freakonomics, or On Demand through most leading cable providers. For more information about the film or to watch the trailer, visit http://www.magpictures.com/freakonomics/.
About Freakonomics
What began as an article by Stephen J. Dubner about economist Steven D. Levitt in 2003 became one of the best-selling books of the last decade and is now one of the most compelling films of the year. Freakonomics examines human behavior through the lens of statistics and incentives, rather than morals and ethics, illuminating surprising and controversial conclusions. Producer Chad Troutwine and his Green Film Company partners Dan O'Meara and Chris Romano assembled a team of powerhouse directors to tackle this provocative material in a singular cinematic experience. Like its literary counterpart, Freakonomics explores the hidden side of everything, debunking conventional wisdom, and revealing what answers may come if one just asks the right questions.
About Green Film Company
Green Film Company is a New York-based producer of film and television. The company's first project, the Emmy-nominated By The People: The Election of Barack Obama, was co-produced with Edward Norton's Class 5 Films, and distributed by HBO Documentary Films, BBC, and Sony Pictures Worldwide. The company's current projects Freakonomics and Gerrymandering premiered at the Tribeca Film Festival before 2010 theatrical releases. Green Film Company is backed by private equity financing and is developing film and television projects with some of the industry's most respected writers and filmmakers.
Contact Information:
Contact:
Lisa Weiner
303.433.7020