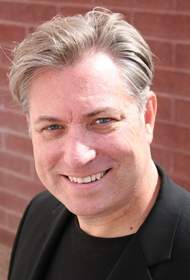 Daniel Chaddock, president of E & E Exhibit Solutions
TEMPE, AZ--(Marketwire - September 14, 2010) - E&E Exhibit Solutions, a Tempe-based trade show display company, is proud to announce its ranking in the Inc. 5000 list for 2010. This recognition marks the fourth time the exhibit company has earned a spot in the coveted list of the 5,000 fastest growing private companies in the U.S. Despite the recent economic recession, E&E Exhibit Solutions marked 16 percent growth between 2006 and 2009 and revenue of $3.2 million in 2009, claiming spot No. 4,577 on the list.
"We are extremely grateful and elated to make the Inc. 5000 for the fourth consecutive year. While most companies in the event marketing industry (including E&E) experienced a drop in business, we continued to diversify our offerings while improving our core disciplines in order to capture new business," said Daniel Chaddock, president of E&E Exhibit Solutions. "Over the last several years, custom rental displays are and remain a popular solution for exhibiting companies looking for unique and affordable exhibits as an alternative to cookie-cutter rentals from show management."
In today's business climate, marketers must use trade show budgets wisely. Rental displays are attractive since exhibitors can save up to two-thirds the purchase price of the same display. With custom rental displays from E&E Exhibit Solutions, trade show exhibitors can still put forth a professional, branded display that meets both their budget and marketing objectives, Chaddock said.
E&E Exhibit Solutions ranks No. 522 in the Business Products and Services category, the top industry on the list by number of companies (640) and total revenue ($80.7 billion). E&E is one of 69 companies in the Phoenix-area to make this year's list and ranks 74 out of the 81 Arizona companies represented on the Inc. 5000.
About E&E Exhibit Solutions
Founded in 1995, E&E Exhibit Solutions is a trade show display company specializing in custom portable trade show displays, graphics and rental exhibits. Serving more than 1,850 clients in 45 states and 15 countries, the company is composed of professionals, consultants and experts in everything trade show, including custom trade show exhibits, rental exhibits, trade show display graphics and more. For more information, visit www.ExhibitsUSA.com or www.RentExhibitsUSA.com.
About Inc. 5000
Each year, Inc. magazine and Inc.com celebrate the remarkable achievements of today's entrepreneurial superstars -- the privately held small businesses that drive our economy. The 2010 Inc. 5000 is ranked according to percentage revenue growth from 2006 through 2009. To qualify, companies have to be U.S.-based, privately held, for profit, and independent -- not subsidiaries or divisions of other companies -- as of December 31, 2009. Revenue in 2006 must have been at least $80,000, and revenue in 2009 must have been at least $2 million. Visit www.inc.com for more information.
Contact Information:
Media Contact:
Danielle Schanke
(480) 966-9873