AtNetPlus Partner Jay Mellon and Greater Akron Chamber President and CEO Dan Colantone enjoy the 30 for the Future afterparty.
AtNetPlus Partner is honored at the Greater Akron Chamber - 30 for the Future awards ceremony.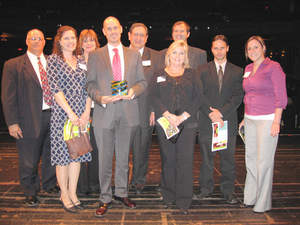 AtNetPlus celebrates with Jay: Katina Mellon, Jay Mellon, Susan Hudik, Jared Wesley, Julie Siller, Tony Malorni, Ellen Kurr, Steve Gomber, and Jim Laber attended the Gala on September 13.
STOW, OH--(Marketwire - September 14, 2010) - IT Services firm AtNetPlus, Inc. today announced that the Greater Akron Chamber has honored AtNetPlus Partner Jay Mellon as a 30 for the Future award recipient. The award honors young professionals, ages 25 to 39, whose contributions have impacted their industries and the Greater Akron Region. The winners were selected based on leadership documents that showcase their personal and professional contributions to their industries and the community.
Now in its fourth year, Mellon is one of 30 recipients to receive the award. The recipients were recently honored at an awards ceremony at the Akron Civic Theatre. Mellon said, "I am pleased to be recognized alongside such an impressive group of young professionals. Each of them has distinguished themselves not only at work but in the community as well."
Greater Akron Chamber President and CEO Dan Colantone noted, "Jay is truly an asset to the region. He exemplifies leadership and hard-work. I'm confident AtNetPlus and the Greater Akron community will continue to benefit from his talents for a long time to come."
Visit www.atnetplus.com/news for photos and additional information about the company.
About AtNetPlus
AtNetPlus specializes in working with small and mid-sized organizations that are technology dependent. We offer solutions that are typically not available to smaller enterprises. Access to our services improves productivity and helps smaller companies stay competitive. Keep your technology connected, secure, and working with attentive IT support from AtNetPlus.
About The Greater Akron Chamber
The Greater Akron Chamber is an economic development organization serving the counties of Medina, Portage and Summit in Northeast Ohio. Our membership includes a diverse array of businesses, ranging from global manufacturers and educational institutions to local machine shops and non-profit organizations. We are committed to building a strong, innovative community.
Contact Information:
Editorial Contact:
Ellen Kurr
Marketing Coordinator
AtNetPlus, Inc.
Phone: 330-945-5685
Fax: 330-945-5684

http://www.AtNetPlus.com