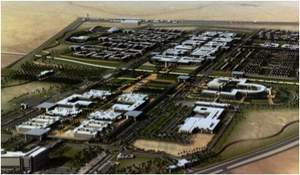 Alanod-Solar in World's Largest Solar Thermal Project at Princess Noura Bint Abdulrahman University for Women in Riyadh, Saudi Arabia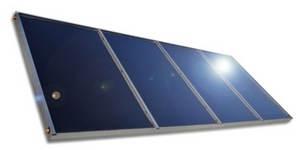 Alanod-Solar mirotherm(R) as part of GREENoneTEC designed GK 3000 series collector
ENNEPETAL, GERMANY--(Marketwire - September 14, 2010) - Alanod-Solar, the leader in the production of absorptive and reflective solar surfaces, today announced that it has been chosen by GREENoneTEC to supply its mirotherm® absorbers for what will be the world's largest solar thermal project, currently under construction as part of the Princess Noura Bint Abdulrahman University for Women in Riyadh, Saudi Arabia.
The solar thermal system's collector surface area covers nearly 120,000 square feet and is nearly twice as large as the next largest solar thermal power plant in the world. The energy generated by the GREENoneTEC collectors will be used to produce hot water and support the heating system for the almost five square mile campus. The entire campus accommodates 40,000 students, teaching staff and other employees along with living quarters, research facilities and its own hospital.
The construction project has a contract value of more than 11.5 billion US dollars and is considered to be the premier solar project in the Arab world. The size of the solar project will make it possible to supply hot water to 36,000 people, and is expected to save approximately 14.8 million gallons of heating oil (approx. 275 million pounds of CO2).
Four thousand engineers, technicians and workers are currently working on building the university, which is due to be fully completed within two years at the end of 2011. However, the solar thermal plant is scheduled to begin test operations by the end of 2010. The plant was developed and designed by Millennium Energy Industries, the leading specialist for solar power solutions in the Middle East and the North African region. Millennium Energy Industries was commissioned for the project at the end of January.
"Alanod-Solar's flexibility and reliability were decisive factors in enabling this large-scale project to be realized within such a short time period," said Robert Kanduth, Managing Director and founder of GREENoneTEC. "They helped us deliver a highly efficient and durable collector that will save money in the long run within a very tight project window."
"The long-time collaboration between Alanod-Solar and GREENoneTEC has resulted in the manufacturing of custom high quality products for the solar thermal market that can be utilized worldwide," said Ingo Beyer, CEO of Alanod-Solar. "Our high volume manufacturing capabilities allow us to deliver superior solar surfaces quickly and efficiently all over the globe."
GREENoneTEC designed the GK 3000 series collectors for large-scale solar thermal plants, especially those with the unique environmental requirements of the Arab world. They feature laserwelded mirotherm® absorbers and have a gross surface area of a little more than 32 square feet. Special solar glass with high light transmission ensures higher performance, and a modified fixing system provides for optimum space utilization. The collector is also designed to withstand significant wind loads, even those resulting from a sandstorm.
For more information about Alanod-Solar products, technologies or capabilities, please visit http://www.alanod-solar.us or call 1-208-726-3003.
About Alanod-Solar
Alanod-Solar is a division of ALANOD Aluminum Veredlung, a thirty-year leader in surface solutions based in Ennepetal, Germany. Alanod-Solar leverages the world's most advanced development labs and production lines to create superior reflective and absorptive surface solutions. The company's long history of excellence and reliability set it apart in the industry, with the performance of its products leading to higher efficiency, better durability and an overall lower cost of systems for solar technologies.
Contact Information:
Press Contact:
Michael Azzano
Cosmo PR
415/596-1978