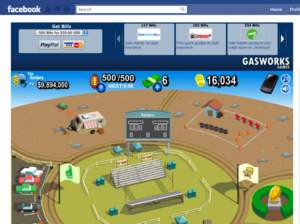 Offer Banner Example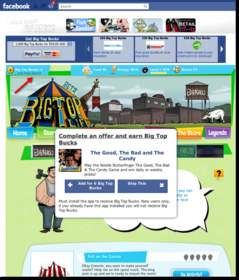 In-Game Overlay Screenshot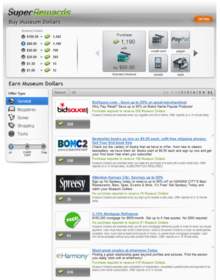 Super Rewards Offer Wall
BURLINGAME, CA--(Marketwire - September 15, 2010) - Adknowledge's Super Rewards (www.srpoints.com), the leader in monetizing virtual currency for online games, today announced the first platform to fully integrate an in-game overlay, offer banners, and its new offer wall into a single monetization solution for online game publishers. The improved platform delivers publishers higher earnings per user, improves the user experience, and increases the number of users paying into the game.
The announcement further extends Adknowledge's leadership as the most valuable, one-stop shop for publishers and advertisers. All online game publishers can work with a single solution for their monetization needs -- be they banners, offers, or direct payments. In addition, all advertisers can use BidSystem to receive the highest quality leads on the market today.
A Powerful Three-In-One Monetization Solution
While the offer wall drives the majority of revenue for most online games, over 75 percent of users do not use the offer wall and, therefore, are not monetized. Super Rewards' improved platform -- including its new in-game overlay, offer banner, and enhanced offer wall -- solves this problem by making offers more accessible to consumers, increasing engagement and the lifetime value of publishers' customers.
In-Game Overlay
Our new in-game overlay is a key component in helping publishers increase revenue. Instead of waiting for users to come to an offer wall, publishers can bring a single, focused offer directly to users within the game, which increases the likelihood of conversion. Our solution takes less than an hour to implement, and gives publishers total control over when and how their offers appear to gamers. Publishers can implement overlays in many ways, including:
At the initial game load point, which presents the offer to 100 percent of gamers
As a prominently placed button with language like, "Get More Coins"
At periods of user inactivity
Social games publishers like The Broth are already seeing significant increases in revenue. After only five days of implementing the overlay, The Broth's Facebook game, Barn Buddy, received a 25 percent increase in revenue. Other publishers have experienced a 45 percent increase in the number of new paying users, resulting in a sustained 20 percent lift in overall earnings (source: Super Rewards internal research).
"The In-Game Overlay is a superb and effective way to engage our players with simple offers for them to complete for free game currency, all while generating significant revenue pick-ups for The Broth," said Markus Weichselbaum, chief executive officer of The Broth. "What's even better is that the Overlay is presented in the game -- where users spend the majority of their time, as opposed to a payment page. This has resulted in higher conversions, as well as a more enjoyable user experience."
Offer Banner
The offer banner uses the space around the main game landscape, presenting a mini-version of the offer wall during game play. Users are presented with targeted direct payment methods and localized offers easing their ability to pay into the game.
Developers have seen a 40% increase in the number of first time payers as well as a 15-40% increase in total earnings. This increase is the result of higher visibility to the gamer as well as the ease of use of the new product. Developers have full control to customize the offer banner to fit within the style of their game.
New Offer Wall
Over the last five months, the Super Rewards offer wall has gone through a complete redesign from the underlying analytics to the user experience with a focus on driving user engagement and discovery.
Gamers have different interests and the offer wall is designed to respect their individuality. Gamers will be able to use the widest variety of direct payment methods, and will also be able to quickly navigate through a wide range of localized offers, including videos, magazines, surveys, shopping rewards and tasks.
Since revenue performance varies based on the specific application dynamics including the level of user engagement and placement of banners, Super Rewards' account professionals provide publishers with strategic counsel to maximize earnings while improving user experience. All of the pioneering platform controls that Super Rewards released to the publisher community continue to work with the new banners, including the industry's first and most robust content filtering, whitelisting and blacklisting controls. In addition, publishers have a simple, single login to pull ad tags and manage reporting.
"At the end of the day, publishers care about building a good environment for their gamers and making sustainable earnings," said Scott Lynn, chief executive officer of Adknowledge. "Our improved Super Rewards platform now delivers an even more efficient way for publishers to engage with paying users and increase revenue. Our advertisers also get exceptional reach and relevancy, particularly for those advertisers looking to expand beyond Yahoo! and Google on social media and gaming channels, where users spend most of their online time."
About Adknowledge
Adknowledge (www.adknowledge.com) operates the 5th largest advertiser marketplace at www.bidsystem.com. We help advertisers to connect with their target audiences in hard-to-reach places outside of traditional search and display channels. Since its founding in 2004, Adknowledge has grown organically and through acquisitions (including Miva, Super Rewards and Hydra) to become the largest privately-owned internet advertising network, with over 300 employees and $300 million in revenue.
Contact Information:
Media Contact
Eric Doyle
re: imagine group

310-804-8228