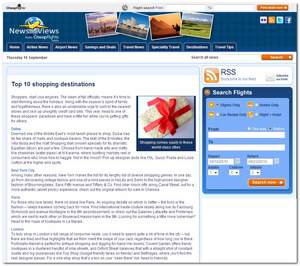 Blog post of Cheapflights.com's Top 10 Shopping Destinations. Today marks the official 100-day countdown to Christmas. So it's time to start making a shopping list of all the gifts you will need to buy for friends and family. And where should you go to buy all these gifts? Cheapflights.com is here to help with its list of Top 10 Shopping Destinations around the world. Whether you are in need of holiday gifts or simply some great retail therapy, these destinations are among the best.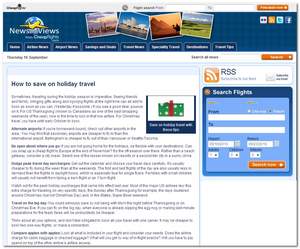 Blog post of Cheapflights.com guide on How To Save on Holiday Travel. With just over three months to go until the Christmas holidays, now is the time to start making your travel plans and book your flights. To help you save, Cheapflights.com has some helpful tips with this latest guide in its How-To series. The number one tip being the sooner you book, the better the deals.
BOSTON, MA--(Marketwire - September 16, 2010) - It's official -- there are exactly 100 shopping days left until Christmas. That is approximately 14 weeks in which to buy all your gifts for friends and family. To get into the spirit of the holidays, Cheapflights.com, the online leader in finding and publishing travel deals, has created a list of the Top 10 Shopping Destinations around the world. And if a vacation is part of your holiday plans or is an actual holiday gift, Cheapflights.com also offers some tips on how to save on holiday travel.
This year, head to one of these shoppers' paradises to do your holiday shopping and get in a little retail therapy at the same time:
Dubai -- Deemed one of the Middle East's most lavish places to shop, Dubai has its fair share of malls and boutique havens. Choose from hand-made arts and crafts like sheeshas (water pipes) at Al Karama, where bustling markets reel in consumers who know how to haggle. Not in the mood? Pick up designer duds like YSL, Gucci, Prada and Louis Vuitton at the higher end spots. Search and compare cheap flights to Dubai.
New York City -- Among many other reasons, New York makes the list for its lengthy list of diverse shopping genres. In one day go from discovering vintage fabrics and one-of-a-kind pieces in NoLita and SoHo to browsing the high-priced designer fashion of Bloomingdales, Saks Fifth Avenue and Tiffany & Co. Find killer knock-offs along Canal Street but, for a more authentic (albeit pricey) experience, check out the original artwork for sale in Chelsea. Search and compare cheap flights to New York.
Paris -- For those who love labels, there is no place like Paris. The ongoing debate on which is better -- the food or the fashion -- keeps travelers coming back for more. Find international haute-couture labels along rue du Faubourg St-Honoré and avenue Montaigne in the 8th arrondissement, or check out the Galeries Lafayette and Printemps, which are next to each other on Boulevard Haussmann in the 9th. Looking for something a little more bohemian? Head to the maze of boutiques in Le Marais. Search and compare cheap flights to Paris.
Hong Kong -- From cutting-edge technology to designer boutiques and mega malls, Hong Kong is a serious player in the game of retail. Popular artists like Vivienne Tam, William Tang and Walter Ma fill enormous malls, and the streets of Li Yuen East and West offer street vendors selling porcelain vases, silk garments and Chinese artworks at Stanley Market. Stroll through the Jade Market in Yau Ma Tai for traditional jewelry that represents good health and fortune. Search and compare cheap flights to Hong Kong.
Salzburg -- For shoppers who celebrate Christmas and want an old-world spin on their season's preparation, head to a market that sells everything from roasted almonds to nativity sets. Travel to Salzburg for the Christkindelmärkt, which opens five weeks before Christmas. Enjoy hot chestnuts, mulled wine, gingerbread hearts and other specialties while you meander through the stalls of Dom and Residenz Squares. It's not a red carpet event, but it certainly works for getting in the festive spirit. Search and compare cheap flights to Salzburg
To read the complete list of Top 10 Shopping Destinations, which also includes London, Milan, Tokyo, Zurich and Los Angeles, visit http://news.cheapflights.com/2010/09/top-10-shopping-destinations/
With just over three months until Christmas, if a holiday vacation is in your plans, now is also the time to start planning and booking. Cheapflights.com offers some recommendations on how to save on holiday travel. The guide, which is the latest in the Cheapflights how-to series, offers advice on the best time to book; the best time to fly, where to go and what to look out for when booking, among other helpful tips. To view the complete guide on How to Save on Holiday Travel, visit http://news.cheapflights.com/2010/09/how-to-save-on-holiday-travel/.
About Cheapflights Media
The trusted partner in flights, Cheapflights Media is a global Internet media network that has been delivering great deals since 1996. Headquartered in London with offices in Boston and Toronto, Cheapflights Media serves advertisers and consumers through its vast portfolio of websites and services. Packed with travel guides, tips and the latest news and information, the Cheapflights sites are online shopping comparison engines that make it easy for consumers in local markets to research, compare and save on domestic and international trips. With brand-name deals on airline tickets from more than 250 partners and 600 airlines and a team of travel experts hand picking the best offerings, Cheapflights offers visitors a mix of deals they can't find anywhere else. zugu, the newest brand in the Cheapflights Media portfolio, is a powerful and simple travel search engine that makes it easy to compare and select the lowest available fares online. By organizing flight options by date, airline and time, zugu helps consumers find the best fares based on their travel terms. There are currently Cheapflights-branded sites for the U.K., U.S., Canada, Germany, Australia & New Zealand, France, Italy and Spain. zugu is available in the U.K., U.S. and Germany. For more information, visit www.cheapflights.com.
Contact Information:
Contact Information:
Dalia Blumenthal
Publicist
Tel: +1 416-926-1967
Mobile: +1 416-788-4573
E-mail: